The Annihilator Burning Route is a Burning Route event featuring the Carson Annihilator, which is quick once drivers get it up to speed, along a long route to the Crystal Summit Observatory.
Start out heading north along Webster Avenue, which merges onto East Crawford Drive and passes the Coastguard HQ. Either drive in the oncoming lane or take the boardwalk and beach route along Big Surf Beach to earn boost.
After crossing Lambert Parkway, East Crawford Drive becomes West Crawford Drive. Following West Crawford Drive will reach the West Crawford Tunnel, which has an opening onto the Crystal Summit Railroad on the right.
Continuing along the railway, after the grey suspension bridge, an opening to the left will allow the player to leave the railway and drive onto Read Lane. Follow Read Lane until it reaches a T intersection, and turn left onto North Mountain Drive.
Staying along North Mountain Drive will lead to the Crystal Summit Observatory.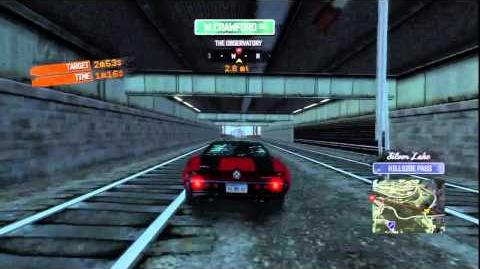 See Also
Edit
Ad blocker interference detected!
Wikia is a free-to-use site that makes money from advertising. We have a modified experience for viewers using ad blockers

Wikia is not accessible if you've made further modifications. Remove the custom ad blocker rule(s) and the page will load as expected.