| | |
| --- | --- |
| « Burnout Legends » | |

Developer
Criterion Games
Publisher
Electronic Arts
Engine
RenderWare
Released
PlayStation Portable
NA: September 13, 2005
EU: September 16, 2005
JP: October 20, 2005
Nintendo DS
NA: November 29, 2005
EU: December 9, 2005
Genre
Racing
Mode(s)
Singleplayer, Multiplayer (AdHoc, WiFi)
Ratings
ESRB: E10+ (PSP)

ESRB: E (DS)
PEGI: 3+
CERO: B
OFLC: M

Platforms
PlayStation Portable, Nintendo DS
Media
Universal Media Disc, Nintendo DS Game Card, Digital Distribution
System requirements
PSP Firmware 1.52 or better
Burnout Legends is the only handheld-exclusive game in the Burnout series and was released on the same day as Burnout Revenge in North America. It was released for the PlayStation Portable on September 13, 2005 and the Nintendo DS on November 29, 2005. The game features many of the tracks and gameplay modes from the first three Burnout games repackaged for the handheld format. Much of the gameplay is similar to Burnout 3: Takedown.
World Tour
Edit
In the game you compete in the World Tour which includes different to unlock new tracks, cars and other events. These events include;
Outside World Tour
Edit
Multiplayer
Edit
Players can also play a multiplayer mode through AdHoc (PSP) or WiFi (DS).
Takedowns
Edit
Takedowns in Burnout Legends work exactly the same as they do in Burnout 3. The player must use their vehicle to make their rivals crash by ramming them off the road.
Boost works just like it does in Burnout 3. The player can use their boost at any time. Boost can be earned by driving dangerously. If a player takes down a rival then their boost will extend and be filled for up to 4x the original length. Crashing will remove a chunk of the boost bar.
There are a total of 95 cars to unlock through the various modes in several different classes: Compact, Muscle, Coupe, Sport, Super and Race Specials along with Heavyweight classes. The vehicles unlocked are those seen in previous Burnout games.
This game also has Collector's cars. There are 5 collector cars for each class. 1 Collector car from each class can be earned in the World Tour at random while the other four can only be earned by beating a player in a challenge race via AdHoc (PSP) or Wi-Fi (DS).
Locations
Edit
Nearly all of the locations are those seen in previous Burnout games.
Soundtrack
Edit
Many of the songs in Burnout Legends's Soundtrack are also in Burnout Revenge.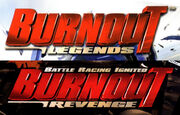 Repackaged

•

Ad blocker interference detected!
Wikia is a free-to-use site that makes money from advertising. We have a modified experience for viewers using ad blockers

Wikia is not accessible if you've made further modifications. Remove the custom ad blocker rule(s) and the page will load as expected.