| | |
| --- | --- |
| « Burnout Revenge » | |

Developer
Criterion Games
Publisher
Electronic Arts
Engine
RenderWare
Released
PS2/Xbox
NA: September 13, 2005
EU: September 23, 2005
Xbox 360
NA: March 7, 2006
EU: March 17, 2006
Genre
Racing
Mode(s)
Single player, Multiplayer (Split-Screen, Online)
Ratings
ESRB: E10+
PEGI: 3+
Platforms
PlayStation 2, Xbox, Xbox 360
Media
DVD-ROM, Digital Download
Input methods
DualShock 2, Xbox Controller
Burnout Revenge is the fifth game in the Burnout series and was released on the same day as Burnout Legends in North America. It was developed by Criterion Games and published by Electronic Arts. It was released on the PlayStation 2, Xbox and Xbox 360.
It is notably the only game in the Burnout Series to feature Traffic Checking (to such an extreme degree) and the first Burnout game to be released on one of the 7th generation consoles.
Events in Burnout Revenge retain many of the gameplay elements seen in previous Burnout games including Race, Road Rage, Eliminator, Burning Lap, and Crash, with Face-Off disappearing from the series . New events include Traffic Attack and Crashbreaker modes.
Takedowns
Edit
Shunting, slamming, drive into oncoming traffic, and grinding rivals steals their boost and adds it to the player's own Boost meter. Rivals can also do the same to the player. Players can earn an extra chunk to their boost bar by taking down a rival but they can just as easily lose a chunk if they crash or are taken down by a rival.
Rather than having generic names such as Compact Type 1 or Super Prototype, vehicles in Burnout Revenge are named similar to factory models such as Factory M-Type and are now ordered by their top speed rather than class.
Locations
Edit
Tracks in Revenge are designed mostly for aggressive vehicle combat but also include many alternate routes.
Soundtrack
Edit
Burnout Revenge utilizes EA Trax Licensed music. 20 of the 40 music tracks in Burnout Revenge were also included in Burnout Legends.
Digital Release
Edit
Platform
Digital Release Date
Via
Price
EU
US
GB
Xbox 360
August 25th, 2009
LIVE
29,99€
$19.99
£19.99
Burnout Revenge was released alongside Burnout Legend's release onto the Sony PlayStation Portable. Both games share very similar logos.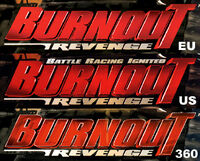 The logo for Burnout Revenge varies slightly. The default logo is plain and simple. This is also the logo used for European releases of the game on PS2 and Xbox. The North America release features a subtle sheen to the logo as well as the additional slogan - "Battle Racing Ignited." The Xbox 360 box art features a crystallized logo similar to the logo seen for Burnout Dominator.
The online servers for the PlayStation 2 and Xbox releases of Burnout Revenge were shut down on November 1st, 2007.
The online servers for the Xbox 360 release of Burnout Revenge were shut down on April 13th, 2012, about 2 exact years since the same happening for Burnout 3 for Xbox and PS2 release. However, they came back online three weeks later for unknown reasons.
In the 2012 version of Need for Speed: Most Wanted, the player can acquire a license plate with the title "Revenge" by getting to level 40, in reference to Burnout: Revenge.
In the menu background movie there is a random speeding car with the camera either following it or attached to it. Said camera appears to be destroyed sometimes as it hits a building or a traffic vehicle (most notably an SUV). It can be spotted as it lags before going into a black screen, playing the movie from the beggining.
The theme song for the game is an official song named BT vs The Doors - Break on Through To The Other Side. However, the "theme song" version removes the lyrics completely. You can hear the original remix through EA Trax and ingame, though.
There appears to be "BURNOUT: Revenge" logos printed on some buildings in the background menu, but it's hard to see because of the motion blur of the speeding vehicle.
Said menu background location slightly resembles Angel Valley without the radio towers and skyscrappers. They both share yellow-ish colours, skies and the buildings are similar.
A minor feature, when you hold the power button of the PS2 so it turns off, the screen slowly fades to black. Most games on the console simply stay there until it's turned off.

Repackaged

•

Ad blocker interference detected!
Wikia is a free-to-use site that makes money from advertising. We have a modified experience for viewers using ad blockers

Wikia is not accessible if you've made further modifications. Remove the custom ad blocker rule(s) and the page will load as expected.