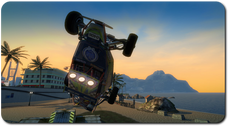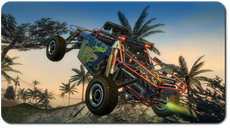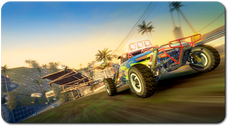 | | |
| --- | --- |
| | Carson Dust Storm was Burnopedia's Featured Article in July 2009. |
The Carson Dust Storm is one of 9 new vehicles that was released in Burnout Paradise's Big Surf Island Update on June 11th, 2009. The Dust Storm is an off-road dune buggy, but it is also an amazing stunt car, perfect for the "if you can see it, you can drive it" approach introduced with Big Surf Island. The Dust Storm is an excellent vehicle for Stunt Run events for those who would want to rack up points, and Races as well because of its proefficient handling and good boost rating. Because of its low strength, however, Marked Man events are discouraged unless one can drive through shortcuts and fight off pursuers. Overall, it is an excellent vehicle choice for both races and stunts.
Description
Edit
As a dedicated motocross vehicle, the Dust Storm is just as happy in the air as it is on the ground. Its low weight and springy suspension means huge air and unbelievable barrel rolls!
How to Unlock
Edit
Available immediately after purchasing and downloading the Big Surf Island pack.
Resemblance
Edit
The Carson Dust Storm could most accurately be called a Truggy.
This Dust Storm was first shown on March 7, 2008 driving across the "new" Paradise Keys Bridge.
Whenever you participate in a Race or Road Rage event with the stock Dust Storm or SuperTurbo, computer controlled Dust Storms and Dust Storm SuperTurbos will always be present instead of normal Paradise vehicles.
This vehicle can't be used in an Online Cops and Robbers.
The rumors of the Dust Storm being able to Freeburn with Bikes have been put to rest since the island update.
Even though the tires on the Dust Storm read Criterion 4x4 Offroad, it only has a Rear-Wheel drivetrain.
The Dust Storm seems to have a high driveaway rate despite being an open wheel vehicle.
The Dust Storm cannot be painted gold or platinum. This goes with other DLC cars.
"Dust Storm" might be a reference to the canceled off-road racing game called "Dust storm" which Criterion Games was working on. It was supposed to be released on the PS2.[1]
This is the only vehicle in all Premium Downloadable Contents to have its own Burning Route event and car.
In coding the name was CAR_CAPS_PDDK01
See also
Edit
References
Edit
↑ Cancelled Dust Storm Game http://uk.ps2.ign.com/objects/668/668818.html