Chrome Car
Talk

0
1,173pages on
this wiki
The Chrome Car

Make
Boost
Speed
Ratings

(9)
(4)
(3)
Expression error: Unrecognised word "strong".Expression error: Unrecognised word "strong".Expression error: Unrecognised word "strong".Expression error: Unrecognised word "strong".Expression error: Unrecognised word "strong".Expression error: Unrecognised word "strong".Expression error: Unrecognised word "strong".Expression error: Unrecognised word "strong".Expression error: Unrecognised word "strong".Expression error: Unrecognised word "strong".Expression error: Unrecognised word "strong".Expression error: Unrecognised word "strong".Expression error: Unrecognised word "strong".Expression error: Unrecognised word "strong".Expression error: Unrecognised word "strong".Expression error: Unrecognised word "strong".Expression error: Unrecognised word "strong".Expression error: Unrecognised word "strong".Expression error: Unrecognised word "strong".Expression error: Unrecognised word "strong".Expression error: Unrecognised word "strong".Expression error: Unrecognised word "strong".Expression error: Unrecognised word "strong".Expression error: Unrecognised word "strong".Expression error: Unrecognised word "strong".Expression error: Unrecognised word "strong".Expression error: Unrecognised word "strong".Expression error: Unrecognised word "strong".Expression error: Unrecognised word "strong".Expression error: Unrecognised word "strong".Expression error: Unrecognised word "strong".Expression error: Unrecognised word "strong".Expression error: Unrecognised word "strong".Expression error: Unrecognised word "strong".Expression error: Unrecognised word "strong".Expression error: Unrecognised word "strong".Expression error: Unrecognised word "strong".Expression error: Unrecognised word "strong".Expression error: Unrecognised word "strong".Expression error: Unrecognised word "strong".Expression error: Unrecognised word "strong".Expression error: Unrecognised word "strong".Expression error: Unrecognised word "strong".Expression error: Unrecognised word "strong".Expression error: Unrecognised word "strong".Expression error: Unrecognised word "strong".Expression error: Unrecognised word "strong".Expression error: Unrecognised word "strong".Expression error: Unrecognised word "strong".Expression error: Unrecognised word "strong".Expression error: Unrecognised word "strong".Expression error: Unrecognised word "strong".Expression error: Unrecognised word "strong".Expression error: Unrecognised word "strong".Expression error: Unrecognised word "strong".Expression error: Unrecognised word "strong".Expression error: Unrecognised word "strong".Expression error: Unrecognised word "strong".Expression error: Unrecognised word "strong".Expression error: Unrecognised word "strong".Expression error: Unrecognised word "strong".Expression error: Unrecognised word "strong".Expression error: Unrecognised word "strong".Expression error: Unrecognised word "strong".Expression error: Unrecognised word "strong".Expression error: Unrecognised word "strong".Expression error: Unrecognised word "strong".Expression error: Unrecognised word "strong".Expression error: Unrecognised word "strong".Expression error: Unrecognised word "strong".Expression error: Unrecognised word "strong".Expression error: Unrecognised word "strong".Expression error: Unrecognised word "strong".Expression error: Unrecognised word "strong".Expression error: Unrecognised word "strong".Expression error: Unrecognised word "strong".Expression error: Unrecognised word "strong".Expression error: Unrecognised word "strong".Expression error: Unrecognised word "strong".Expression error: Unrecognised word "strong".Expression error: Unrecognised word "strong".Expression error: Unrecognised word "strong".Expression error: Unrecognised word "strong".Expression error: Unrecognised word "strong".Expression error: Unrecognised word "strong".Expression error: Unrecognised word "strong".Expression error: Unrecognised word "strong".Expression error: Unrecognised word "strong".Expression error: Unrecognised word "strong".Expression error: Unrecognised word "strong".Expression error: Unrecognised word "strong".Expression error: Unrecognised word "strong".Expression error: Unrecognised word "strong".Expression error: Unrecognised word "strong".Expression error: Unrecognised word "strong".Expression error: Unrecognised word "strong".Expression error: Unrecognised word "strong".Expression error: Unrecognised word "strong".Expression error: Unrecognised word "strong".Expression error: Unrecognised word "strong".Expression error: Unrecognised word "strong".Expression error: Unrecognised word "strong".Expression error: Unrecognised word "strong".Expression error: Unrecognised word "strong".Expression error: Unrecognised word "strong".Expression error: Unrecognised word "strong".Expression error: Unrecognised word "strong".Expression error: Unrecognised word "strong".Expression error: Unrecognised word "strong".Expression error: Unrecognised word "strong".Expression error: Unrecognised word "strong".Expression error: Unrecognised word "strong".Expression error: Unrecognised word "strong".Expression error: Unrecognised word "strong".Expression error: Unrecognised word "strong".Expression error: Unrecognised word "strong".Expression error: Unrecognised word "strong".Expression error: Unrecognised word "strong".Expression error: Unrecognised word "strong".Expression error: Unrecognised word "strong".Expression error: Unrecognised word "strong".Expression error: Unrecognised word "strong".Expression error: Unrecognised word "strong".Expression error: Unrecognised word "strong".Expression error: Unrecognised word "strong".Expression error: Unrecognised word "strong".Expression error: Unrecognised word "strong".Expression error: Unrecognised word "strong".Expression error: Unrecognised word "strong".Expression error: Unrecognised word "strong".Expression error: Unrecognised word "strong".Expression error: Unrecognised word "strong".Expression error: Unrecognised word "strong".Expression error: Unrecognised word "strong".Expression error: Unrecognised word "strong".Expression error: Unrecognised word "strong".Expression error: Unrecognised word "strong".Expression error: Unrecognised word "strong".Expression error: Unrecognised word "strong".Expression error: Unrecognised word "strong".Expression error: Unrecognised word "strong".Expression error: Unrecognised word "strong".Expression error: Unrecognised word "strong".Expression error: Unrecognised word "strong".Expression error: Unrecognised word "strong".Expression error: Unrecognised word "strong".Expression error: Unrecognised word "strong".Expression error: Unrecognised word "strong".Expression error: Unrecognised word "strong".Expression error: Unrecognised word "strong".Expression error: Unexpected < operator.Expression error: Unexpected < operator.Expression error: Unexpected < operator.Expression error: Unexpected < operator.Expression error: Unexpected < operator.Expression error: Unexpected < operator.Expression error: Unexpected < operator.Expression error: Unexpected < operator.Expression error: Unexpected < operator.Expression error: Unexpected < operator.Expression error: Unexpected < operator.Expression error: Unexpected < operator.Expression error: Unexpected < operator.Expression error: Unexpected < operator.Expression error: Unexpected < operator.Expression error: Unexpected < operator.Expression error: Unexpected < operator.Expression error: Unexpected < operator.Expression error: Unexpected < operator.Expression error: Unexpected < operator.Expression error: Unexpected < operator.Expression error: Unexpected < operator.Expression error: Unexpected < operator.Expression error: Unexpected < operator.Expression error: Unexpected < operator.Expression error: Unexpected < operator.Expression error: Unexpected < operator.Expression error: Unexpected < operator.Expression error: Unexpected < operator.Expression error: Unexpected < operator.Expression error: Unexpected < operator.Expression error: Unexpected < operator.Expression error: Unexpected < operator.Expression error: Unexpected < operator.Expression error: Unexpected < operator.Expression error: Unexpected < operator.Expression error: Unexpected < operator.Expression error: Unexpected < operator.Expression error: Unexpected < operator.Expression error: Unexpected < operator.Expression error: Unexpected < operator.Expression error: Unexpected < operator.Expression error: Unexpected < operator.Expression error: Unexpected < operator.Expression error: Unexpected < operator.Expression error: Unexpected < operator.Expression error: Unexpected < operator.Expression error: Unexpected < operator.Expression error: Unexpected < operator.Expression error: Unexpected < operator.Expression error: Unexpected < operator.Expression error: Unexpected < operator.Expression error: Unexpected < operator.Expression error: Unexpected < operator.Expression error: Unexpected < operator.Expression error: Unexpected < operator.Expression error: Unexpected < operator.Expression error: Unexpected < operator.Expression error: Unexpected < operator.Expression error: Unexpected < operator.Expression error: Unexpected < operator.Expression error: Unexpected < operator.Expression error: Unexpected < operator.Expression error: Unexpected < operator.Expression error: Unexpected < operator.Expression error: Unexpected < operator.Expression error: Unexpected < operator.Expression error: Unexpected < operator.Expression error: Unexpected < operator.Expression error: Unexpected < operator.Expression error: Unexpected < operator.Expression error: Unexpected < operator.Expression error: Unexpected < operator.Expression error: Unexpected < operator.Expression error: Unexpected < operator.Expression error: Unexpected < operator.Expression error: Unexpected < operator.Expression error: Unexpected < operator.Expression error: Unexpected < operator.Expression error: Unexpected < operator.Expression error: Unexpected < operator.Expression error: Unexpected < operator.Expression error: Unexpected < operator.Expression error: Unexpected < operator.Expression error: Unexpected < operator.Expression error: Unexpected < operator.Expression error: Unexpected < operator.Expression error: Unexpected < operator.Expression error: Unexpected < operator.Expression error: Unexpected < operator.Expression error: Unexpected < operator.Expression error: Unexpected < operator.Expression error: Unexpected < operator.Expression error: Unexpected < operator.Expression error: Unexpected < operator.Expression error: Unexpected < operator.Expression error: Unexpected < operator.Expression error: Unexpected < operator.Expression error: Unexpected < operator.Expression error: Unexpected < operator.Expression error: Unexpected < operator.Expression error: Unexpected < operator.Expression error: Unexpected < operator.Expression error: Unexpected < operator.Expression error: Unexpected < operator.Expression error: Unexpected < operator.Expression error: Unexpected < operator.Expression error: Unexpected < operator.Expression error: Unexpected < operator.Expression error: Unexpected < operator.Expression error: Unexpected < operator.Expression error: Unexpected < operator.Expression error: Unexpected < operator.Expression error: Unexpected < operator.Expression error: Unexpected < operator.Expression error: Unexpected < operator.Expression error: Unexpected < operator.Expression error: Unexpected < operator.Expression error: Unexpected < operator.Expression error: Unexpected < operator.Expression error: Unexpected < operator.Expression error: Unexpected < operator.Expression error: Unexpected < operator.Expression error: Unexpected < operator.Expression error: Unexpected < operator.Expression error: Unexpected < operator.Expression error: Unexpected < operator.Expression error: Unexpected < operator.Expression error: Unexpected < operator.Expression error: Unexpected < operator.Expression error: Unexpected < operator.Expression error: Unexpected < operator.Expression error: Unexpected < operator.Expression error: Unexpected < operator.Expression error: Unexpected < operator.Expression error: Unexpected < operator.Expression error: Unexpected < operator.Expression error: Unexpected < operator.Expression error: Unexpected < operator.Expression error: Unexpected < operator.Expression error: Unexpected < operator.Expression error: Unexpected < operator.Expression error: Unexpected < operator.Expression error: Unexpected < operator.Expression error: Unexpected < operator.Expression error: Unexpected < operator.Expression error: Unexpected < operator.Expression error: Unexpected < operator.Expression error: Unexpected < operator.Expression error: Unexpected < operator. ({{{acceleration}}})

kg.

Expression error: Unrecognised word "strong".Expression error: Unrecognised word "strong".Expression error: Unrecognised word "strong".Expression error: Unrecognised word "strong".Expression error: Unrecognised word "strong".Expression error: Unrecognised word "strong".Expression error: Unrecognised word "strong".Expression error: Unrecognised word "strong".Expression error: Unrecognised word "strong".Expression error: Unrecognised word "strong".Expression error: Unrecognised word "strong".Expression error: Unrecognised word "strong".Expression error: Unrecognised word "strong".Expression error: Unrecognised word "strong".Expression error: Unrecognised word "strong".Expression error: Unrecognised word "strong".Expression error: Unrecognised word "strong".Expression error: Unrecognised word "strong".Expression error: Unrecognised word "strong".Expression error: Unrecognised word "strong".Expression error: Unrecognised word "strong".Expression error: Unrecognised word "strong".Expression error: Unrecognised word "strong".Expression error: Unrecognised word "strong".Expression error: Unrecognised word "strong".Expression error: Unrecognised word "strong".Expression error: Unrecognised word "strong".Expression error: Unrecognised word "strong".Expression error: Unrecognised word "strong".Expression error: Unrecognised word "strong".Expression error: Unrecognised word "strong".Expression error: Unrecognised word "strong".Expression error: Unrecognised word "strong".Expression error: Unrecognised word "strong".Expression error: Unrecognised word "strong".Expression error: Unrecognised word "strong".Expression error: Unrecognised word "strong".Expression error: Unrecognised word "strong".Expression error: Unrecognised word "strong".Expression error: Unrecognised word "strong".Expression error: Unrecognised word "strong".Expression error: Unrecognised word "strong".Expression error: Unrecognised word "strong".Expression error: Unrecognised word "strong".Expression error: Unrecognised word "strong".Expression error: Unrecognised word "strong".Expression error: Unrecognised word "strong".Expression error: Unrecognised word "strong".Expression error: Unrecognised word "strong".Expression error: Unrecognised word "strong".Expression error: Unrecognised word "strong".Expression error: Unrecognised word "strong".Expression error: Unrecognised word "strong".Expression error: Unrecognised word "strong".Expression error: Unrecognised word "strong".Expression error: Unrecognised word "strong".Expression error: Unrecognised word "strong".Expression error: Unrecognised word "strong".Expression error: Unrecognised word "strong".Expression error: Unrecognised word "strong".Expression error: Unrecognised word "strong".Expression error: Unrecognised word "strong".Expression error: Unrecognised word "strong".Expression error: Unrecognised word "strong".Expression error: Unrecognised word "strong".Expression error: Unrecognised word "strong".Expression error: Unrecognised word "strong".Expression error: Unrecognised word "strong".Expression error: Unrecognised word "strong".Expression error: Unrecognised word "strong".Expression error: Unrecognised word "strong".Expression error: Unrecognised word "strong".Expression error: Unrecognised word "strong".Expression error: Unrecognised word "strong".Expression error: Unrecognised word "strong".Expression error: Unrecognised word "strong".Expression error: Unrecognised word "strong".Expression error: Unrecognised word "strong".Expression error: Unrecognised word "strong".Expression error: Unrecognised word "strong".Expression error: Unrecognised word "strong".Expression error: Unrecognised word "strong".Expression error: Unrecognised word "strong".Expression error: Unrecognised word "strong".Expression error: Unrecognised word "strong".Expression error: Unrecognised word "strong".Expression error: Unrecognised word "strong".Expression error: Unrecognised word "strong".Expression error: Unrecognised word "strong".Expression error: Unrecognised word "strong".Expression error: Unrecognised word "strong".Expression error: Unrecognised word "strong".Expression error: Unrecognised word "strong".Expression error: Unrecognised word "strong".Expression error: Unrecognised word "strong".Expression error: Unrecognised word "strong".Expression error: Unrecognised word "strong".Expression error: Unrecognised word "strong".Expression error: Unrecognised word "strong".Expression error: Unrecognised word "strong".Expression error: Unrecognised word "strong".Expression error: Unrecognised word "strong".Expression error: Unrecognised word "strong".Expression error: Unrecognised word "strong".Expression error: Unrecognised word "strong".Expression error: Unrecognised word "strong".Expression error: Unrecognised word "strong".Expression error: Unrecognised word "strong".Expression error: Unrecognised word "strong".Expression error: Unrecognised word "strong".Expression error: Unrecognised word "strong".Expression error: Unrecognised word "strong".Expression error: Unrecognised word "strong".Expression error: Unrecognised word "strong".Expression error: Unrecognised word "strong".Expression error: Unrecognised word "strong".Expression error: Unrecognised word "strong".Expression error: Unrecognised word "strong".Expression error: Unrecognised word "strong".Expression error: Unrecognised word "strong".Expression error: Unrecognised word "strong".Expression error: Unrecognised word "strong".Expression error: Unrecognised word "strong".Expression error: Unrecognised word "strong".Expression error: Unrecognised word "strong".Expression error: Unrecognised word "strong".Expression error: Unrecognised word "strong".Expression error: Unrecognised word "strong".Expression error: Unrecognised word "strong".Expression error: Unrecognised word "strong".Expression error: Unrecognised word "strong".Expression error: Unrecognised word "strong".Expression error: Unrecognised word "strong".Expression error: Unrecognised word "strong".Expression error: Unrecognised word "strong".Expression error: Unrecognised word "strong".Expression error: Unrecognised word "strong".Expression error: Unrecognised word "strong".Expression error: Unrecognised word "strong".Expression error: Unrecognised word "strong".Expression error: Unrecognised word "strong".Expression error: Unrecognised word "strong".Expression error: Unrecognised word "strong".Expression error: Unrecognised word "strong".Expression error: Unrecognised word "strong".Expression error: Unrecognised word "strong".Expression error: Unrecognised word "strong".Expression error: Unrecognised word "strong".Expression error: Unrecognised word "strong".Expression error: Unrecognised word "strong".Expression error: Unexpected < operator.Expression error: Unexpected < operator.Expression error: Unexpected < operator.Expression error: Unexpected < operator.Expression error: Unexpected < operator.Expression error: Unexpected < operator.Expression error: Unexpected < operator.Expression error: Unexpected < operator.Expression error: Unexpected < operator.Expression error: Unexpected < operator.Expression error: Unexpected < operator.Expression error: Unexpected < operator.Expression error: Unexpected < operator.Expression error: Unexpected < operator.Expression error: Unexpected < operator.Expression error: Unexpected < operator.Expression error: Unexpected < operator.Expression error: Unexpected < operator.Expression error: Unexpected < operator.Expression error: Unexpected < operator.Expression error: Unexpected < operator.Expression error: Unexpected < operator.Expression error: Unexpected < operator.Expression error: Unexpected < operator.Expression error: Unexpected < operator.Expression error: Unexpected < operator.Expression error: Unexpected < operator.Expression error: Unexpected < operator.Expression error: Unexpected < operator.Expression error: Unexpected < operator.Expression error: Unexpected < operator.Expression error: Unexpected < operator.Expression error: Unexpected < operator.Expression error: Unexpected < operator.Expression error: Unexpected < operator.Expression error: Unexpected < operator.Expression error: Unexpected < operator.Expression error: Unexpected < operator.Expression error: Unexpected < operator.Expression error: Unexpected < operator.Expression error: Unexpected < operator.Expression error: Unexpected < operator.Expression error: Unexpected < operator.Expression error: Unexpected < operator.Expression error: Unexpected < operator.Expression error: Unexpected < operator.Expression error: Unexpected < operator.Expression error: Unexpected < operator.Expression error: Unexpected < operator.Expression error: Unexpected < operator.Expression error: Unexpected < operator.Expression error: Unexpected < operator.Expression error: Unexpected < operator.Expression error: Unexpected < operator.Expression error: Unexpected < operator.Expression error: Unexpected < operator.Expression error: Unexpected < operator.Expression error: Unexpected < operator.Expression error: Unexpected < operator.Expression error: Unexpected < operator.Expression error: Unexpected < operator.Expression error: Unexpected < operator.Expression error: Unexpected < operator.Expression error: Unexpected < operator.Expression error: Unexpected < operator.Expression error: Unexpected < operator.Expression error: Unexpected < operator.Expression error: Unexpected < operator.Expression error: Unexpected < operator.Expression error: Unexpected < operator.Expression error: Unexpected < operator.Expression error: Unexpected < operator.Expression error: Unexpected < operator.Expression error: Unexpected < operator.Expression error: Unexpected < operator.Expression error: Unexpected < operator.Expression error: Unexpected < operator.Expression error: Unexpected < operator.Expression error: Unexpected < operator.Expression error: Unexpected < operator.Expression error: Unexpected < operator.Expression error: Unexpected < operator.Expression error: Unexpected < operator.Expression error: Unexpected < operator.Expression error: Unexpected < operator.Expression error: Unexpected < operator.Expression error: Unexpected < operator.Expression error: Unexpected < operator.Expression error: Unexpected < operator.Expression error: Unexpected < operator.Expression error: Unexpected < operator.Expression error: Unexpected < operator.Expression error: Unexpected < operator.Expression error: Unexpected < operator.Expression error: Unexpected < operator.Expression error: Unexpected < operator.Expression error: Unexpected < operator.Expression error: Unexpected < operator.Expression error: Unexpected < operator.Expression error: Unexpected < operator.Expression error: Unexpected < operator.Expression error: Unexpected < operator.Expression error: Unexpected < operator.Expression error: Unexpected < operator.Expression error: Unexpected < operator.Expression error: Unexpected < operator.Expression error: Unexpected < operator.Expression error: Unexpected < operator.Expression error: Unexpected < operator.Expression error: Unexpected < operator.Expression error: Unexpected < operator.Expression error: Unexpected < operator.Expression error: Unexpected < operator.Expression error: Unexpected < operator.Expression error: Unexpected < operator.Expression error: Unexpected < operator.Expression error: Unexpected < operator.Expression error: Unexpected < operator.Expression error: Unexpected < operator.Expression error: Unexpected < operator.Expression error: Unexpected < operator.Expression error: Unexpected < operator.Expression error: Unexpected < operator.Expression error: Unexpected < operator.Expression error: Unexpected < operator.Expression error: Unexpected < operator.Expression error: Unexpected < operator.Expression error: Unexpected < operator.Expression error: Unexpected < operator.Expression error: Unexpected < operator.Expression error: Unexpected < operator.Expression error: Unexpected < operator.Expression error: Unexpected < operator.Expression error: Unexpected < operator.Expression error: Unexpected < operator.Expression error: Unexpected < operator.Expression error: Unexpected < operator.Expression error: Unexpected < operator.Expression error: Unexpected < operator.Expression error: Unexpected < operator.Expression error: Unexpected < operator.Expression error: Unexpected < operator.Expression error: Unexpected < operator.Expression error: Unexpected < operator.Expression error: Unexpected < operator.Expression error: Unexpected < operator.Expression error: Unexpected < operator.Expression error: Unexpected < operator.Expression error: Unexpected < operator.Expression error: Unexpected < operator. ({{{handling}}})
Level {{{crashbreaker}}}

Top
Speeds
Unknown
The Chrome Car is a secret test vehicle in Burnout Paradise.
The Chrome Car's description makes it clear that the vehicle was built to test lighting effects, most obviously vehicles' reflective properties.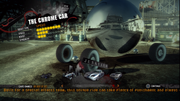 Description
Edit
Built for a special effects team, this unique ride can take plenty of punishment and always comes up shiny.
How to Unlock
Edit
This vehicle was first seen as a glitch but the latest video proves that it can be used in-game and offline.
A post on operationburnout.com claims that it was available if all players simultaneously started Showtime at the same time the host began a race. This was never validated and it was believed to be patched in the Cagney update.
Resemblance
Edit
It simply resembles a platinum ball on 4 wheels identical to those used for the Carson Opus or the Hunter Vegas. Its engine sounds like Watson R-Turbo Roadster.
Purpose Hypotheses
Edit
Note: These explanations were based upon the visual footage available at the time of its discovery and have been confirmed since.
The Chrome Car is presumed to be a pre-fabricated vehicle template within the Renderware game engine. If this is a template then it would have been used for all the 4 wheel based vehicles within Burnout Paradise as it would have changeable script codes that could set the vehicle's handing, speed and braking abilities. The Chrome ball within the centre of the car would have been changed to the model of the vehicle it is intended to be.
The Chrome Car could also have been used to test map sections at the beginning of Burnout Paradise's development cycle as the vehicles for Paradise would have been in early design or modelling stages. The Chrome ball could also have been used to test shading, lighting and reflection codes for moving objects during development.
The Chrome Car is sometimes seen as a vehicle created for only testing the effects of Gold & Platinum paint. This is generally an ignorant view of the vehicle as the colors and shaders used to create those paint finishes could be used on any model within the game leaving the sole creation of a finish testing vehicle seen as a waste of time and resources.
It appears that this test car has a longer-than-average Speed Boost bar. The only other car sharing a speed boost bar of this length is the Montgomery Hawker Mech.
In the latest video it appears to share the same Junkyard icon as the Krieger 616 Sport, but this is most likely to be a glitch resulting from the -still elusive- unlock method.
The Chrome Car seems to have an extremely high weight, as the car under boost will almost insantly drop out of the air. (A glitch which also occurs with the Jansen Toy 88 Special).
The top of the car will clip into the ground if it crashes while upside down.