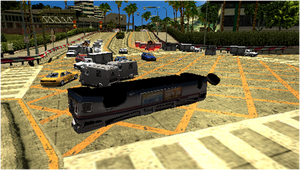 Crash is a game mode in Burnout Legends where the player must rack up points by causing the biggest traffic pile-up possible. The player can also collect power-ups which earn him/her more points, Boost, or Crashbreakers.
Changes from Burnout 3
Edit
Due to the system's limitation, the "helicopter" view of the crash site is now removed. Instead, after the crash, the game proceeds directly to the results screen.
Multiplier Crash pick-ups aren't present on each crash junction.

Due to the absence of those Pick-ups, target scores are generally much smaller in Burnout Legends.

Some cars' Crashbreakers are somewhat weaker.
Apart from broken windows and damaged wheels, the traffic vehicles do not show any signs of deformation at all. But they do deform if the player crashes in any other event.
World Tour
Edit
There are 100 Crash events in Burnout Legends's World Tour mode which can also be selected from the Single Event menu once they have been unlocked.
| Number | Name | Location | Gold | Silver | Bronze |
| --- | --- | --- | --- | --- | --- |
| 1 | Trailer Trash | Silver Lake | $155,000 | $95,000 | $65,000 |
| 2 | Cross Traffic | Downtown | $145,000 | $100,000 | $65,000 |
| 3 | Marina Mayhem | Waterfront | $600,000 | $300,000 | $100,000 |
| 4 | Twister | Waterfront | $300,000 | $150,000 | $75,000 |
| 5 | Demolition | Downtown | $190,000 | $150,000 | $55,000 |
| 6 | Shut Up and Jump | Silver Lake | $225,000 | $155,000 | $95,000 |
| 7 | Slip and Slide | Winter City | $350,000 | $200,000 | $75,000 |
| 8 | Grand Slam | Riviera | $280,000 | $200,000 | $60,000 |
| 9 | Roadblock | Alpine | $370,000 | $200,000 | $65,000 |
| 10 | Grapes of Wrath | Vineyard | $285,000 | $175,000 | $70,000 |
| 11 | Pump Up the Tram | Winter City | $500,000 | $265,000 | $70,000 |
| 12 | Get Bent | Riviera | $350,000 | $250,000 | $170,000 |
| 13 | Corner Chaos | Winter City | $325,000 | $200,000 | $70,000 |
| 14 | Jack Knife City | Vineyard | $400,000 | $250,000 | $70,000 |
| 15 | Neon Nightmare | Golden City | $400,000 | $200,000 | $65,000 |
| 16 | Paradise Peril | Island Paradise | $400,000 | $250,000 | $80,000 |
| 17 | Rock the Dock | Dockside | $400,000 | $200,000 | $70,000 |
| 18 | Ruined Holiday | Island Paradise | $450,000 | $250,000 | $75,000 |
| 19 | Tuk Down | Golden City | $250,000 | $150,000 | $62,500 |
| 20 | Handle With Care | Golden City | $350,000 | $275,000 | $75,000 |
| 21 | Showdown | Silver Lake | $520,000 | $250,000 | $125,000 |
| 22 | Leap of Faith | Waterfront | $600,000 | $300,000 | $100,000 |
| 23 | Dead End | Downtown | $350,000 | $250,000 | $100,000 |
| 24 | Ticket to Collide | Silver Lake | $390,000 | $230,000 | $125,000 |
| 25 | Wrecks City | Downtown | $450,000 | $250,000 | $70,000 |
| 26 | Danger Zone | Waterfront | $600,000 | $350,000 | $80,000 |
| 27 | Riviera Rampage | Riviera | $425,000 | $325,000 | $170,000 |
| 28 | Riverside Wreck | Winter City | $450,000 | $300,000 | $70,000 |
| 29 | Grape Fear | Vineyard | $650,000 | $300,000 | $75,000 |
| 30 | Don't Look Down | Alpine | $370,000 | $200,000 | $65,000 |
| 31 | Spin the Wheel | Riviera | $450,000 | $300,000 | $125,000 |
| 32 | Field of Screams | Vineyard | $800,000 | $300,000 | $70,000 |
| 33 | Snow Joke | Winter City | $360,000 | $250,000 | $80,000 |
| 34 | Chilly Crash | Alpine | $450,000 | $300,000 | $80,000 |
| 35 | Turn & Burn | Golden City | $420,000 | $350,000 | $70,000 |
| 36 | Exit the Dragon | Dockside | $500,000 | $370,000 | $80,000 |
| 37 | Tropical Storm | Island Paradise | $550,000 | $275,000 | $75,000 |
| 38 | Crossing Crush | Golden City | $500,000 | $390,000 | $80,000 |
| 39 | Freeway Thunder | Golden City | $350,000 | $150,000 | $75,000 |
| 40 | Drive Angry | Island Paradise | $600,000 | $300,000 | $70,000 |
| 41 | Hate to Be Late | Downtown | $600,000 | $250,000 | $80,000 |
| 42 | 3 Ways to Fly | Silver Lake | $450,000 | $325,000 | $150,000 |
| 43 | Bay-Side Blitz | Waterfront | $500,000 | $240,000 | $70,000 |
| 44 | Hold Tight | Downtown | $500,000 | $250,000 | $80,000 |
| 45 | Bridge Too Far | Silver Lake | $410,000 | $300,000 | $100,000 |
| 46 | Traffic Jammed | Downtown | $450,000 | $250,000 | $80,000 |
| 47 | Exact Change | Alpine | $550,000 | $250,000 | $70,000 |
| 48 | Country Chaos | Vineyard | $410,000 | $200,000 | $80,000 |
| 49 | Cliffhanger (Burnout Legends) | Riviera | $450,000 | $280,000 | $150,000 |
| 50 | Market Crash | Winter City | $400,000 | $250,000 | $75,000 |
| 51 | Winter Wipe-Out | Winter City | $450,000 | $225,000 | $80,000 |
| 52 | High Roller | Riviera | $300,000 | $225,000 | $70,000 |
| 53 | Haul A$$ | Vineyard | $630,000 | $350,000 | $80,000 |
| 54 | Lanes Lunacy | Alpine | $430,000 | $290,000 | $90,000 |
| 55 | Road to Ruin | Golden City | $350,000 | $225,000 | $85,000 |
| 56 | Jungle Rumble | Island Paradise | $450,000 | $350,000 | $80,000 |
| 57 | Reiko-Chet | Dockside | $400,000 | $250,000 | $75,000 |
| 58 | Airstrike | Island Paradise | $350,000 | $250,000 | $85,000 |
| 59 | Trash Smash | Golden City | $650,000 | $400,000 | $750,000 |
| 60 | Whirlwind | Dockside | $500,000 | $290,000 | $65,000 |
| 61 | Out of Control | Silver Lake | $400,000 | $270,000 | $75,000 |
| 62 | Bus Blockade | Downtown | $600,000 | $250,000 | $85,000 |
| 63 | Falling Down | Waterfront | $400,000 | $215,000 | $85,000 |
| 64 | Fear Factor | Silver Lake | $400,000 | $220,000 | $120,000 |
| 65 | T-Boned | Waterfront | $600,000 | $470,000 | $75,000 |
| 66 | Sunshine Smash | Waterfront | $400,000 | $200,000 | $80,000 |
| 67 | Snow Plough | Alpine | $500,000 | $200,000 | $80,000 |
| 68 | Crash Landing | Winter City | $400,000 | $270,000 | $80,000 |
| 69 | Break the Bank | Riviera | $420,000 | $300,000 | $170,000 |
| 70 | Bale Out | Vineyard | $525,000 | $250,000 | $70,000 |
| 71 | Go for Broke | Riviera | $575,000 | $350,000 | $150,000 |
| 72 | Medieval Mash | Vineyard | $600,000 | $300,000 | $75,000 |
| 73 | Run for the Bus | Winter City | $525,000 | $275,000 | $75,000 |
| 74 | Corkscrewed | Alpine | $400,000 | $290,000 | $75,000 |
| 75 | Look Both Ways | Dockside | $580,000 | $280,000 | $65,000 |
| 76 | Heavy Hitter | Golden City | $350,000 | $200,000 | $75,000 |
| 77 | Steel Storm | Island Paradise | $500,000 | $250,000 | $100,000 |
| 78 | Buckle Up | Dockside | $500,000 | $250,000 | $75,000 |
| 79 | Uphill Struggle | Island Paradise | $600,000 | $250,000 | $70,000 |
| 80 | Eastern Block | Golden City | $350,000 | $200,000 | $70,000 |
| 81 | Pick up the Pieces | Silver Lake | $350,000 | $200,000 | $100,000 |
| 82 | Grid Locked | Downtown | $600,000 | $400,000 | $90,000 |
| 83 | Air Rage | Downtown | $500,000 | $200,000 | $90,000 |
| 84 | Hit and Run | Downtown | $500,000 | $250,000 | $80,000 |
| 85 | Look then Leap | Waterfront | $400,000 | $200,000 | $80,000 |
| 86 | Tram-Pulled | Waterfront | $500,000 | $300,000 | $100,000 |
| 87 | On Rampage | Winter City | $500,000 | $350,000 | $90,000 |
| 88 | Jump the Toll | Alpine | $560,000 | $300,000 | $100,000 |
| 89 | Jumping Jam | Riviera | $400,000 | $270,000 | $185,000 |
| 90 | Crash Au Van | Vineyard | $400,000 | $265,000 | $95,000 |
| 91 | Cool for Crash | Winter City | $500,000 | $350,000 | $85,000 |
| 92 | Ship Wrecked | Riviera | $500,000 | $300,000 | $85,000 |
| 93 | Gate Crasher | Vineyard | $575,000 | $400,000 | $100,000 |
| 94 | Highway to Hell | Alpine | $700,000 | $275,000 | $80,000 |
| 95 | Crash Fu | Golden City | $600,000 | $300,000 | $80,000 |
| 96 | The Crate Escape | Dockside | $500,000 | $390,000 | $85,000 |
| 97 | Tourist Trap | Island Paradise | $500,000 | $225,000 | $90,000 |
| 98 | Pure Scores | Island Paradise | $600,000 | $300,000 | $90,000 |
| 99 | Lost Luggage | Island Paradise | $450,000 | $250,000 | $90,000 |
| 100 | Crashed Out | Dockside | $600,000 | $300,000 | $90,000 |