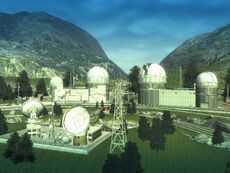 Crystal Summit Observatory is the Northwest event destination located in Silver Lake.
Below are the single-player events that end at the Crystal Summit Observatory.
There is a hidden area across the road from the Observatory. It is speculated to be a shortcut "removed" by Criterion in the early development of Burnout Paradise. Before the Cagney Update, this road was accessed by activating Showtime, and then hopping over the rocks blocking the entrance.
There is also a second shortcut next to the Observatory itself. Unlike the first hidden pathway, this section of road is completely inaccessible, meaning you cannot use Showtime. You can however discover it by using Dead Man's Edge from the south, heading up the pathway on the left and showtiming into (and over) the red barrier.
The name for this landmark is a reference to Crystal Summit, one of the seven areas in Burnout 2: Point of Impact.