}}
The Custom Hot Rod is a Vehicle in Burnout Dominator. It uses the Same model as the Hot Rod from Burnout Revenge. It performs much as a balanced car in the Hot Rod series, allowing it to compete in any event with ease.
How to Unlock
Edit
Drift a total of 9,000 feet during the Maniac event on Spiritual Gate.
Resemblance
Edit
In real life the Custom Hot Rod looks similar to a Ford Model A or B Coupe used in the American Hot Rod culture. The only difference from a "normal" Hot Rod is that it features a very sleek style.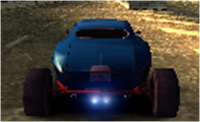 The tail lights do not have any glare effects in the PS2 version of Dominator
The boost flames appear in the middle of the exhaust pipes and not at the ends where they should appear in the PSP version of Dominator.
It also of Hot Rod from Burnout 2: Point of Impact.
Only AI can change the color.
See Also
Edit