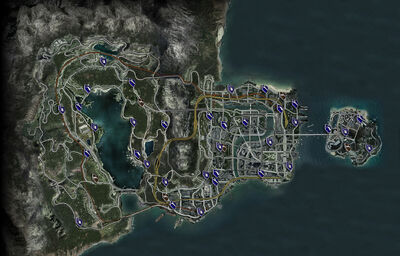 Drive Throughs are buildings found throughout Paradise City that help the player in a variety of ways. Their buildings are all much smaller than the other inaccessible buildings of the city. They all have an area in front that has enough room for the player to drive through. Once the player passes through that area, a certain effect will be applied to the player's vehicle based on the type of drive through.
Gas 5 - Fuel & Mart
Premium Service

Type
Gas Station
Number
14 + 2
Effect
Refills the player's Boost Bar
Gas stations are the most common of the Drive Throughs found in Paradise City, there are 14 of them on the mainland and two additional ones were added with Big Surf Island. They refill the player's boost when they pass through it and are essential in nearly every event in the game.

Auto Repair
Custom Auto Repair Shop

Type
Automobile Repair Shop
Number
11 + 1
Effect
Fixes the player's car.
Auto Repairs are the second-most common Drive Throughs found in Paradise City. Auto Repairs are necessary to fix up the player's car after it has been unlocked to apply custom paint jobs. Also they are useful during Marked Man and Road Rage events where the player's vehicle can reach Critical Damage.

Perfect Cover Paintshop
Perfection since 1986

Type
Automobile Body Shop
Number
5 + 1
Effect
Changes the player's car color.
Paint Shops are much less common than Gas Stations or Auto Repairs in Paradise City. When the player drives through a Paint Shop, their car is given a new, random pearlescent paint job. These drive throughs have no direct use during any event and are mainly intended for Freeburn when the player feels that his/her car needs a new paint job without having to return to a Junkyard.

Junkyard
Wrecking Scrap

Type
Automobile Wreck Yard
Number
5 + 1
Effect
Accesses the player's vehicle collection.
Junkyards are the most important of Drive-Throughs in Paradise City. There is a junkyard in each of the 5 Paradise City districts and one on Big Surf Island. Junkyards allow the player to switch vehicles as well as the paint job.

There are three awards for the PC & PS3, three Xbox 360 Achievements, and four PS3 Trophies involving Drive Throughs.
PC & PS3 Awards

Repair your first wrecked car
Repair your car at critical damage in a Road Rage event
Find all Drive Thru's
Xbox 360 Achievements

Repair your first wrecked car
Repair your car at critical damage in a Road Rage event
Find all Drive Thru's
PS3 Trophies

Awarded for driving through any Auto Repair
Awarded for driving through an Auto Repair during any Offline Road Rage
Awarded for driving through a Gas Station during any Offline Road Rage
Awarded for driving through any Paint Shop to change your vehicle color