Ad blocker interference detected!
Wikia is a free-to-use site that makes money from advertising. We have a modified experience for viewers using ad blockers

Wikia is not accessible if you've made further modifications. Remove the custom ad blocker rule(s) and the page will load as expected.
White Mountain is one of two European locations in Burnout Revenge. It is based on Rome, Italy and features two circuits.
Short Circuit
Edit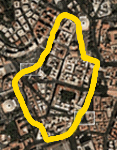 The track starts on a small freeway but quickly exits it to get through the narrow roads of the city. Players have to look out for arch walls and be prepared for the circuit's tighter corners. A 180 degree corner also features a shortcut allowing drivers to cut through it, but they must be careful of hitting cross traffic or rivals. There is surprisingly a fair amount of buses and big rigs driving in this part of the city.
Long Circuit
Edit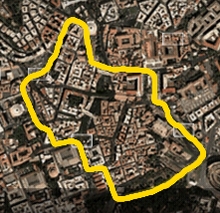 Deserting the central freeway, the Long circuit extends south. Featuring elevated sections, stairways and even sharper corners, there is plenty of danger within the circuit. The southernmost section of a track takes place on an even busier freeway near the Coliseum
Crash Junctions
Edit
Eternal City has 5 crash junctions in a unique area:
Rank 2 Crash Road To Ruins
Rank 2 Rank 4 Crash Circle Of Strife
Rank 5 Crash Rome Wrecker
Rank 5 Crash Smackeroni
Rank 8 Crash Eternal Flames
XBOX 360 Exclusive Junctions
Edit
The HD port released on the XBOX 360 added 10 new crash junctions around the world:
Rank 5 Crash Pasta Red Light (Takes place in Long circuit)
Race Events
Edit
Rank 2 Burning Lap Long Forwards
Rank 2 Race Long Forwards
Rank 2 Road Rage Long Reverse
Rank 2 Race Long Reverse
Rank 4 Preview Lap
Rank 5 Road Rage Short Reverse
Rank 5 Crashbreaker Race Long Reverse
Rank 5 Crashbreaker Race Short Reverse
Rank 5 Eliminator Long Reverse
Rank 5 Eliminator Short Reverse
Rank 5 Traffic Attack Short Forwards
Rank 5 Grand Prix 5
Rank 8 Crashbreaker Race Long Reverse
Rank 8 Traffic Attack Short Reverse
Rank 8 Traffic Attack Long Reverse
Rank 8 Crashbreaker Race Short Reverse
Rank 8 Crashbreaker Eliminator Short Forwards
Rank 8 Crashbreaker Eliminator Long Forwards
Rank 8 Crashbreaker Road Rage Short Forwards
Rank 8 Crashbreaker Grand Prix 8
Rank 10 Traffic Attack Long Forwards
Rank 10 Burning Lap Long Reverse
Rank 10 Crashbreaker Road Rage Long Forwads