P12 Community Challenge - December 2009
Forum page
Ad blocker interference detected!
Wikia is a free-to-use site that makes money from advertising. We have a modified experience for viewers using ad blockers

Wikia is not accessible if you've made further modifications. Remove the custom ad blocker rule(s) and the page will load as expected.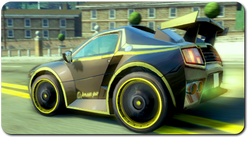 This is the fifth Burnopedia P12 Community Challenge. On the 12th day of a month, an article improvement-based challenge will be introduced. The winner at the end of the month will be featured on Burnopedia's New & Notable and be awarded a special userbox for their user page. The final winner will be decided by Burnopedia's administration.
---
With last month's challenge being completed within 24 hours of its reveal, I thought I'd make December's a bit more competitive. The user to complete the most articles about Car Timed Challenges, following the format of Slam Dunk! and other completed articles on this topic will be victorious. Of course, these edits should be judged of high or sufficient quality by Burnopedia's administration and use the assets provided. Some Car Timed Challenge articles have already been created but are sparse on text and other parts of the page. Others can be created by clicking the red links on the list at Car Timed Challenges.
Act civil, or you will be disqualified. Only edits received between 12 December 2009 at 12:00 UTC and 31 December 2009 at 24:00 UTC will count toward this contest. "December Community Challenge" must be added as your edit status when making the edits intended to count toward this challenge. Leave your questions and comments below or at my talk page. Thanks, Exlonox talk  Burnopedia Admin 04:54, December 12, 2009 (UTC)
Discussion
Edit