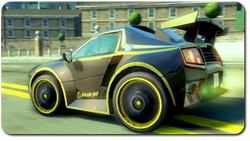 This is the third Burnopedia P12 Community Challenge. On the 12th day of a month, an article improvement-based challenge will be introduced. (I apologize for this month's lateness). The winner at the end of the month will be featured on the sitenotice and be awarded a special userbox for their user page. The final winner will be decided by Burnopedia's administration.
---
This month's challenge is to see which user can add vehicles' stats before the Free February Update to the "Notes" sections of the most Paradise vehicle articles. You can find a table featuring the stats below. A few pages have already been completed... see the Hunter Cavalry for an implementation example.
Act civil, or you will be disqualified. Only edits received between 13 June 2009 at 12:00 UTC and 31 June 2009 at 24:00 UTC will count toward this contest. "July Community Challenge" must be added as your edit status when making the edits intended to count toward this challenge. The pages edited by each participant also must be reported in the "Signatures" section below. Leave your questions and comments below or at my talk page. Thanks, Exlonox talk  Burnopedia Admin 13:53, 13 July 2009 (UTC)
"Signatures"
Edit
Format:
When adding more pages, place them under your list, with a new timestamp for each day edited (only one timestamp per day please)... Happy editing.
---
Jeez I've lost count, can confirm though that from the Annihilator until the end all vehicles have been done including all of the original car's variations... (Manufacturers + Variations + Clear Up "See Also")... I think I've done my part, will finish it tomorrow though, getting late here... C ee X 22:55, 13 July 2009 (UTC)
---
All of them listed. All those which have already been done I have redone to fit the other descriptions and I have also corrected a few errors and clashes on those pages. LeMansRacer talk
So who edited the most? Exlonox talk  Burnopedia Admin

20:45, 6 August 2009 (UTC)

I don't know who edited more but you should give it to C_ee_X LeMansRacer talk

Thanks very much LeMans! ;-) I'll remember this kind gesture and hope to return the favor! C ee X (

TALK

) Burnopedia Admin - 11:03, 14 August 2009 (UTC)
Discussion
Edit
Isn't today July 12? Where I live there's less than an hour left for the day. Where is it? You may delete this post and all other posts after to replace it with the actual challenge if you wish. Babadingldoo 03:10, 13 July 2009 (UTC)