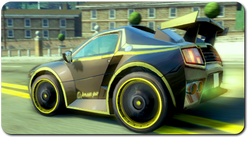 This is the second Burnopedia P12 Community Challenge. On the 12th day of a month, an article improvement-based challenge will be introduced. The winner at the end of the month will be featured on the sitenotice and be awarded a special userbox for their user page. The final winner will be decided by Burnopedia's administration.
---
This month's challenge is to see which user can complete the most vehicle articles. You can find a list of "vehicle stub" articles at this link. To view the official Burnopedia format of a vehicle article, follow this link. For the article to be complete, all sections must be complete, the article must contain at least one image, the opening paragraph must contain a sufficient explanation of the vehicle's handling, usefulness, and other pertinence; and the infobox must be filled out.
Act civil, or you will be disqualified. Only edits received between 12 June 2009 at 23:00 UTC and 31 June 2009 at 24:00 UTC will count toward this contest. Leave your questions and comments below or at my talk page.
Discussion
Edit
So who won? Was anyone keeping track? Did anyone event participate in this? Babadingldoo 21:58, 2 July 2009 (UTC)
Sadly, no one participated. Exlonox talk  Burnopedia Admin

22:17, 2 July 2009 (UTC)

I can't, they are all non-paradise games. User:Rappy/sig

So Babad, no one event in this event Spoil-t

What do you mean no-one took part, I did all 4 island toy car pages and the Diamond P12 page LeMansRacer talk

It appears he is correct. All 5 articles were edited by him after the 12th of June. User:Rappy/sig

My mistake. Exlonox talk  Burnopedia Admin

01:39, 3 July 2009 (UTC)