WRECKED!

This Burnout Paradise page "Gabriel's Shake Shack" is incomplete.

If you can, please help Burnopedia by adding appropriate and relevant content here.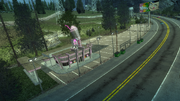 Gabriel's Shake Shack is located on South Rouse Drive near Lawrence Tunnel. It's Car Park is not accessible through normal means neither by glitching. It has a huge cup with a straw on top, has pink neon lighting and looks like a retro cafe. It has a huge advert next to it held up by posts. It is surrounded by forests and cannot be seen easily when speeding past. An Auto Repair is just South from it.
Ad blocker interference detected!
Wikia is a free-to-use site that makes money from advertising. We have a modified experience for viewers using ad blockers

Wikia is not accessible if you've made further modifications. Remove the custom ad blocker rule(s) and the page will load as expected.