Description
Edit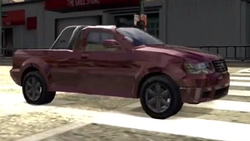 The Heavy Pick-Up is the 1st vehicle you unlock in crash mode in Burnout 3. It is fast and has medium weight but it drifts way too easily and can accidentally crash. Its crashbreaker is not very effective either so it is an initial placeholder until players have racked up enough $ in damage to recieve better crash vehicles.
The Heavy Pickup can be painted, red, black, and white.
How to Unlock
Edit
Awarded for causing $1,000,000 of damage in crash mode.
Resemblance
Edit
Loosely resembles a Ford F-150 with racing modifications. The tail lights resemble that of a Honda Ridgeline. This car could resemble its modified counterpart in Burnout Paradise.