Hunter Olympus Governor
Talk

18
1,199pages on
this wiki
Olympus Governor

Make
Boost
Stunt
Ratings

(6)
(7)
(10)
Expression error: Unrecognised word "strong".Expression error: Unrecognised word "strong".Expression error: Unrecognised word "strong".Expression error: Unrecognised word "strong".Expression error: Unrecognised word "strong".Expression error: Unrecognised word "strong".Expression error: Unrecognised word "strong".Expression error: Unrecognised word "strong".Expression error: Unrecognised word "strong".Expression error: Unrecognised word "strong".Expression error: Unrecognised word "strong".Expression error: Unrecognised word "strong".Expression error: Unrecognised word "strong".Expression error: Unrecognised word "strong".Expression error: Unrecognised word "strong".Expression error: Unrecognised word "strong".Expression error: Unrecognised word "strong".Expression error: Unrecognised word "strong".Expression error: Unrecognised word "strong".Expression error: Unrecognised word "strong".Expression error: Unrecognised word "strong".Expression error: Unrecognised word "strong".Expression error: Unrecognised word "strong".Expression error: Unrecognised word "strong".Expression error: Unrecognised word "strong".Expression error: Unrecognised word "strong".Expression error: Unrecognised word "strong".Expression error: Unrecognised word "strong".Expression error: Unrecognised word "strong".Expression error: Unrecognised word "strong".Expression error: Unrecognised word "strong".Expression error: Unrecognised word "strong".Expression error: Unrecognised word "strong".Expression error: Unrecognised word "strong".Expression error: Unrecognised word "strong".Expression error: Unrecognised word "strong".Expression error: Unrecognised word "strong".Expression error: Unrecognised word "strong".Expression error: Unrecognised word "strong".Expression error: Unrecognised word "strong".Expression error: Unrecognised word "strong".Expression error: Unrecognised word "strong".Expression error: Unrecognised word "strong".Expression error: Unrecognised word "strong".Expression error: Unrecognised word "strong".Expression error: Unrecognised word "strong".Expression error: Unrecognised word "strong".Expression error: Unrecognised word "strong".Expression error: Unrecognised word "strong".Expression error: Unrecognised word "strong".Expression error: Unrecognised word "strong".Expression error: Unrecognised word "strong".Expression error: Unrecognised word "strong".Expression error: Unrecognised word "strong".Expression error: Unrecognised word "strong".Expression error: Unrecognised word "strong".Expression error: Unrecognised word "strong".Expression error: Unrecognised word "strong".Expression error: Unrecognised word "strong".Expression error: Unrecognised word "strong".Expression error: Unrecognised word "strong".Expression error: Unrecognised word "strong".Expression error: Unrecognised word "strong".Expression error: Unrecognised word "strong".Expression error: Unrecognised word "strong".Expression error: Unrecognised word "strong".Expression error: Unrecognised word "strong".Expression error: Unrecognised word "strong".Expression error: Unrecognised word "strong".Expression error: Unrecognised word "strong".Expression error: Unrecognised word "strong".Expression error: Unrecognised word "strong".Expression error: Unrecognised word "strong".Expression error: Unrecognised word "strong".Expression error: Unrecognised word "strong".Expression error: Unrecognised word "strong".Expression error: Unrecognised word "strong".Expression error: Unrecognised word "strong".Expression error: Unrecognised word "strong".Expression error: Unrecognised word "strong".Expression error: Unrecognised word "strong".Expression error: Unrecognised word "strong".Expression error: Unrecognised word "strong".Expression error: Unrecognised word "strong".Expression error: Unrecognised word "strong".Expression error: Unrecognised word "strong".Expression error: Unrecognised word "strong".Expression error: Unrecognised word "strong".Expression error: Unrecognised word "strong".Expression error: Unrecognised word "strong".Expression error: Unrecognised word "strong".Expression error: Unrecognised word "strong".Expression error: Unrecognised word "strong".Expression error: Unrecognised word "strong".Expression error: Unrecognised word "strong".Expression error: Unrecognised word "strong".Expression error: Unrecognised word "strong".Expression error: Unrecognised word "strong".Expression error: Unrecognised word "strong".Expression error: Unrecognised word "strong".Expression error: Unrecognised word "strong".Expression error: Unrecognised word "strong".Expression error: Unrecognised word "strong".Expression error: Unrecognised word "strong".Expression error: Unrecognised word "strong".Expression error: Unrecognised word "strong".Expression error: Unrecognised word "strong".Expression error: Unrecognised word "strong".Expression error: Unrecognised word "strong".Expression error: Unrecognised word "strong".Expression error: Unrecognised word "strong".Expression error: Unrecognised word "strong".Expression error: Unrecognised word "strong".Expression error: Unrecognised word "strong".Expression error: Unrecognised word "strong".Expression error: Unrecognised word "strong".Expression error: Unrecognised word "strong".Expression error: Unrecognised word "strong".Expression error: Unrecognised word "strong".Expression error: Unrecognised word "strong".Expression error: Unrecognised word "strong".Expression error: Unrecognised word "strong".Expression error: Unrecognised word "strong".Expression error: Unrecognised word "strong".Expression error: Unrecognised word "strong".Expression error: Unrecognised word "strong".Expression error: Unrecognised word "strong".Expression error: Unrecognised word "strong".Expression error: Unrecognised word "strong".Expression error: Unrecognised word "strong".Expression error: Unrecognised word "strong".Expression error: Unrecognised word "strong".Expression error: Unrecognised word "strong".Expression error: Unrecognised word "strong".Expression error: Unrecognised word "strong".Expression error: Unrecognised word "strong".Expression error: Unrecognised word "strong".Expression error: Unrecognised word "strong".Expression error: Unrecognised word "strong".Expression error: Unrecognised word "strong".Expression error: Unrecognised word "strong".Expression error: Unrecognised word "strong".Expression error: Unrecognised word "strong".Expression error: Unrecognised word "strong".Expression error: Unrecognised word "strong".Expression error: Unrecognised word "strong".Expression error: Unrecognised word "strong".Expression error: Unrecognised word "strong".Expression error: Unrecognised word "strong".Expression error: Unrecognised word "strong".Expression error: Unexpected < operator.Expression error: Unexpected < operator.Expression error: Unexpected < operator.Expression error: Unexpected < operator.Expression error: Unexpected < operator.Expression error: Unexpected < operator.Expression error: Unexpected < operator.Expression error: Unexpected < operator.Expression error: Unexpected < operator.Expression error: Unexpected < operator.Expression error: Unexpected < operator.Expression error: Unexpected < operator.Expression error: Unexpected < operator.Expression error: Unexpected < operator.Expression error: Unexpected < operator.Expression error: Unexpected < operator.Expression error: Unexpected < operator.Expression error: Unexpected < operator.Expression error: Unexpected < operator.Expression error: Unexpected < operator.Expression error: Unexpected < operator.Expression error: Unexpected < operator.Expression error: Unexpected < operator.Expression error: Unexpected < operator.Expression error: Unexpected < operator.Expression error: Unexpected < operator.Expression error: Unexpected < operator.Expression error: Unexpected < operator.Expression error: Unexpected < operator.Expression error: Unexpected < operator.Expression error: Unexpected < operator.Expression error: Unexpected < operator.Expression error: Unexpected < operator.Expression error: Unexpected < operator.Expression error: Unexpected < operator.Expression error: Unexpected < operator.Expression error: Unexpected < operator.Expression error: Unexpected < operator.Expression error: Unexpected < operator.Expression error: Unexpected < operator.Expression error: Unexpected < operator.Expression error: Unexpected < operator.Expression error: Unexpected < operator.Expression error: Unexpected < operator.Expression error: Unexpected < operator.Expression error: Unexpected < operator.Expression error: Unexpected < operator.Expression error: Unexpected < operator.Expression error: Unexpected < operator.Expression error: Unexpected < operator.Expression error: Unexpected < operator.Expression error: Unexpected < operator.Expression error: Unexpected < operator.Expression error: Unexpected < operator.Expression error: Unexpected < operator.Expression error: Unexpected < operator.Expression error: Unexpected < operator.Expression error: Unexpected < operator.Expression error: Unexpected < operator.Expression error: Unexpected < operator.Expression error: Unexpected < operator.Expression error: Unexpected < operator.Expression error: Unexpected < operator.Expression error: Unexpected < operator.Expression error: Unexpected < operator.Expression error: Unexpected < operator.Expression error: Unexpected < operator.Expression error: Unexpected < operator.Expression error: Unexpected < operator.Expression error: Unexpected < operator.Expression error: Unexpected < operator.Expression error: Unexpected < operator.Expression error: Unexpected < operator.Expression error: Unexpected < operator.Expression error: Unexpected < operator.Expression error: Unexpected < operator.Expression error: Unexpected < operator.Expression error: Unexpected < operator.Expression error: Unexpected < operator.Expression error: Unexpected < operator.Expression error: Unexpected < operator.Expression error: Unexpected < operator.Expression error: Unexpected < operator.Expression error: Unexpected < operator.Expression error: Unexpected < operator.Expression error: Unexpected < operator.Expression error: Unexpected < operator.Expression error: Unexpected < operator.Expression error: Unexpected < operator.Expression error: Unexpected < operator.Expression error: Unexpected < operator.Expression error: Unexpected < operator.Expression error: Unexpected < operator.Expression error: Unexpected < operator.Expression error: Unexpected < operator.Expression error: Unexpected < operator.Expression error: Unexpected < operator.Expression error: Unexpected < operator.Expression error: Unexpected < operator.Expression error: Unexpected < operator.Expression error: Unexpected < operator.Expression error: Unexpected < operator.Expression error: Unexpected < operator.Expression error: Unexpected < operator.Expression error: Unexpected < operator.Expression error: Unexpected < operator.Expression error: Unexpected < operator.Expression error: Unexpected < operator.Expression error: Unexpected < operator.Expression error: Unexpected < operator.Expression error: Unexpected < operator.Expression error: Unexpected < operator.Expression error: Unexpected < operator.Expression error: Unexpected < operator.Expression error: Unexpected < operator.Expression error: Unexpected < operator.Expression error: Unexpected < operator.Expression error: Unexpected < operator.Expression error: Unexpected < operator.Expression error: Unexpected < operator.Expression error: Unexpected < operator.Expression error: Unexpected < operator.Expression error: Unexpected < operator.Expression error: Unexpected < operator.Expression error: Unexpected < operator.Expression error: Unexpected < operator.Expression error: Unexpected < operator.Expression error: Unexpected < operator.Expression error: Unexpected < operator.Expression error: Unexpected < operator.Expression error: Unexpected < operator.Expression error: Unexpected < operator.Expression error: Unexpected < operator.Expression error: Unexpected < operator.Expression error: Unexpected < operator.Expression error: Unexpected < operator.Expression error: Unexpected < operator.Expression error: Unexpected < operator.Expression error: Unexpected < operator.Expression error: Unexpected < operator.Expression error: Unexpected < operator.Expression error: Unexpected < operator.Expression error: Unexpected < operator.Expression error: Unexpected < operator.Expression error: Unexpected < operator.Expression error: Unexpected < operator.Expression error: Unexpected < operator.Expression error: Unexpected < operator.Expression error: Unexpected < operator.Expression error: Unexpected < operator. ({{{acceleration}}})

kg.

Expression error: Unrecognised word "strong".Expression error: Unrecognised word "strong".Expression error: Unrecognised word "strong".Expression error: Unrecognised word "strong".Expression error: Unrecognised word "strong".Expression error: Unrecognised word "strong".Expression error: Unrecognised word "strong".Expression error: Unrecognised word "strong".Expression error: Unrecognised word "strong".Expression error: Unrecognised word "strong".Expression error: Unrecognised word "strong".Expression error: Unrecognised word "strong".Expression error: Unrecognised word "strong".Expression error: Unrecognised word "strong".Expression error: Unrecognised word "strong".Expression error: Unrecognised word "strong".Expression error: Unrecognised word "strong".Expression error: Unrecognised word "strong".Expression error: Unrecognised word "strong".Expression error: Unrecognised word "strong".Expression error: Unrecognised word "strong".Expression error: Unrecognised word "strong".Expression error: Unrecognised word "strong".Expression error: Unrecognised word "strong".Expression error: Unrecognised word "strong".Expression error: Unrecognised word "strong".Expression error: Unrecognised word "strong".Expression error: Unrecognised word "strong".Expression error: Unrecognised word "strong".Expression error: Unrecognised word "strong".Expression error: Unrecognised word "strong".Expression error: Unrecognised word "strong".Expression error: Unrecognised word "strong".Expression error: Unrecognised word "strong".Expression error: Unrecognised word "strong".Expression error: Unrecognised word "strong".Expression error: Unrecognised word "strong".Expression error: Unrecognised word "strong".Expression error: Unrecognised word "strong".Expression error: Unrecognised word "strong".Expression error: Unrecognised word "strong".Expression error: Unrecognised word "strong".Expression error: Unrecognised word "strong".Expression error: Unrecognised word "strong".Expression error: Unrecognised word "strong".Expression error: Unrecognised word "strong".Expression error: Unrecognised word "strong".Expression error: Unrecognised word "strong".Expression error: Unrecognised word "strong".Expression error: Unrecognised word "strong".Expression error: Unrecognised word "strong".Expression error: Unrecognised word "strong".Expression error: Unrecognised word "strong".Expression error: Unrecognised word "strong".Expression error: Unrecognised word "strong".Expression error: Unrecognised word "strong".Expression error: Unrecognised word "strong".Expression error: Unrecognised word "strong".Expression error: Unrecognised word "strong".Expression error: Unrecognised word "strong".Expression error: Unrecognised word "strong".Expression error: Unrecognised word "strong".Expression error: Unrecognised word "strong".Expression error: Unrecognised word "strong".Expression error: Unrecognised word "strong".Expression error: Unrecognised word "strong".Expression error: Unrecognised word "strong".Expression error: Unrecognised word "strong".Expression error: Unrecognised word "strong".Expression error: Unrecognised word "strong".Expression error: Unrecognised word "strong".Expression error: Unrecognised word "strong".Expression error: Unrecognised word "strong".Expression error: Unrecognised word "strong".Expression error: Unrecognised word "strong".Expression error: Unrecognised word "strong".Expression error: Unrecognised word "strong".Expression error: Unrecognised word "strong".Expression error: Unrecognised word "strong".Expression error: Unrecognised word "strong".Expression error: Unrecognised word "strong".Expression error: Unrecognised word "strong".Expression error: Unrecognised word "strong".Expression error: Unrecognised word "strong".Expression error: Unrecognised word "strong".Expression error: Unrecognised word "strong".Expression error: Unrecognised word "strong".Expression error: Unrecognised word "strong".Expression error: Unrecognised word "strong".Expression error: Unrecognised word "strong".Expression error: Unrecognised word "strong".Expression error: Unrecognised word "strong".Expression error: Unrecognised word "strong".Expression error: Unrecognised word "strong".Expression error: Unrecognised word "strong".Expression error: Unrecognised word "strong".Expression error: Unrecognised word "strong".Expression error: Unrecognised word "strong".Expression error: Unrecognised word "strong".Expression error: Unrecognised word "strong".Expression error: Unrecognised word "strong".Expression error: Unrecognised word "strong".Expression error: Unrecognised word "strong".Expression error: Unrecognised word "strong".Expression error: Unrecognised word "strong".Expression error: Unrecognised word "strong".Expression error: Unrecognised word "strong".Expression error: Unrecognised word "strong".Expression error: Unrecognised word "strong".Expression error: Unrecognised word "strong".Expression error: Unrecognised word "strong".Expression error: Unrecognised word "strong".Expression error: Unrecognised word "strong".Expression error: Unrecognised word "strong".Expression error: Unrecognised word "strong".Expression error: Unrecognised word "strong".Expression error: Unrecognised word "strong".Expression error: Unrecognised word "strong".Expression error: Unrecognised word "strong".Expression error: Unrecognised word "strong".Expression error: Unrecognised word "strong".Expression error: Unrecognised word "strong".Expression error: Unrecognised word "strong".Expression error: Unrecognised word "strong".Expression error: Unrecognised word "strong".Expression error: Unrecognised word "strong".Expression error: Unrecognised word "strong".Expression error: Unrecognised word "strong".Expression error: Unrecognised word "strong".Expression error: Unrecognised word "strong".Expression error: Unrecognised word "strong".Expression error: Unrecognised word "strong".Expression error: Unrecognised word "strong".Expression error: Unrecognised word "strong".Expression error: Unrecognised word "strong".Expression error: Unrecognised word "strong".Expression error: Unrecognised word "strong".Expression error: Unrecognised word "strong".Expression error: Unrecognised word "strong".Expression error: Unrecognised word "strong".Expression error: Unrecognised word "strong".Expression error: Unrecognised word "strong".Expression error: Unrecognised word "strong".Expression error: Unrecognised word "strong".Expression error: Unrecognised word "strong".Expression error: Unrecognised word "strong".Expression error: Unrecognised word "strong".Expression error: Unrecognised word "strong".Expression error: Unrecognised word "strong".Expression error: Unrecognised word "strong".Expression error: Unexpected < operator.Expression error: Unexpected < operator.Expression error: Unexpected < operator.Expression error: Unexpected < operator.Expression error: Unexpected < operator.Expression error: Unexpected < operator.Expression error: Unexpected < operator.Expression error: Unexpected < operator.Expression error: Unexpected < operator.Expression error: Unexpected < operator.Expression error: Unexpected < operator.Expression error: Unexpected < operator.Expression error: Unexpected < operator.Expression error: Unexpected < operator.Expression error: Unexpected < operator.Expression error: Unexpected < operator.Expression error: Unexpected < operator.Expression error: Unexpected < operator.Expression error: Unexpected < operator.Expression error: Unexpected < operator.Expression error: Unexpected < operator.Expression error: Unexpected < operator.Expression error: Unexpected < operator.Expression error: Unexpected < operator.Expression error: Unexpected < operator.Expression error: Unexpected < operator.Expression error: Unexpected < operator.Expression error: Unexpected < operator.Expression error: Unexpected < operator.Expression error: Unexpected < operator.Expression error: Unexpected < operator.Expression error: Unexpected < operator.Expression error: Unexpected < operator.Expression error: Unexpected < operator.Expression error: Unexpected < operator.Expression error: Unexpected < operator.Expression error: Unexpected < operator.Expression error: Unexpected < operator.Expression error: Unexpected < operator.Expression error: Unexpected < operator.Expression error: Unexpected < operator.Expression error: Unexpected < operator.Expression error: Unexpected < operator.Expression error: Unexpected < operator.Expression error: Unexpected < operator.Expression error: Unexpected < operator.Expression error: Unexpected < operator.Expression error: Unexpected < operator.Expression error: Unexpected < operator.Expression error: Unexpected < operator.Expression error: Unexpected < operator.Expression error: Unexpected < operator.Expression error: Unexpected < operator.Expression error: Unexpected < operator.Expression error: Unexpected < operator.Expression error: Unexpected < operator.Expression error: Unexpected < operator.Expression error: Unexpected < operator.Expression error: Unexpected < operator.Expression error: Unexpected < operator.Expression error: Unexpected < operator.Expression error: Unexpected < operator.Expression error: Unexpected < operator.Expression error: Unexpected < operator.Expression error: Unexpected < operator.Expression error: Unexpected < operator.Expression error: Unexpected < operator.Expression error: Unexpected < operator.Expression error: Unexpected < operator.Expression error: Unexpected < operator.Expression error: Unexpected < operator.Expression error: Unexpected < operator.Expression error: Unexpected < operator.Expression error: Unexpected < operator.Expression error: Unexpected < operator.Expression error: Unexpected < operator.Expression error: Unexpected < operator.Expression error: Unexpected < operator.Expression error: Unexpected < operator.Expression error: Unexpected < operator.Expression error: Unexpected < operator.Expression error: Unexpected < operator.Expression error: Unexpected < operator.Expression error: Unexpected < operator.Expression error: Unexpected < operator.Expression error: Unexpected < operator.Expression error: Unexpected < operator.Expression error: Unexpected < operator.Expression error: Unexpected < operator.Expression error: Unexpected < operator.Expression error: Unexpected < operator.Expression error: Unexpected < operator.Expression error: Unexpected < operator.Expression error: Unexpected < operator.Expression error: Unexpected < operator.Expression error: Unexpected < operator.Expression error: Unexpected < operator.Expression error: Unexpected < operator.Expression error: Unexpected < operator.Expression error: Unexpected < operator.Expression error: Unexpected < operator.Expression error: Unexpected < operator.Expression error: Unexpected < operator.Expression error: Unexpected < operator.Expression error: Unexpected < operator.Expression error: Unexpected < operator.Expression error: Unexpected < operator.Expression error: Unexpected < operator.Expression error: Unexpected < operator.Expression error: Unexpected < operator.Expression error: Unexpected < operator.Expression error: Unexpected < operator.Expression error: Unexpected < operator.Expression error: Unexpected < operator.Expression error: Unexpected < operator.Expression error: Unexpected < operator.Expression error: Unexpected < operator.Expression error: Unexpected < operator.Expression error: Unexpected < operator.Expression error: Unexpected < operator.Expression error: Unexpected < operator.Expression error: Unexpected < operator.Expression error: Unexpected < operator.Expression error: Unexpected < operator.Expression error: Unexpected < operator.Expression error: Unexpected < operator.Expression error: Unexpected < operator.Expression error: Unexpected < operator.Expression error: Unexpected < operator.Expression error: Unexpected < operator.Expression error: Unexpected < operator.Expression error: Unexpected < operator.Expression error: Unexpected < operator.Expression error: Unexpected < operator.Expression error: Unexpected < operator.Expression error: Unexpected < operator.Expression error: Unexpected < operator.Expression error: Unexpected < operator.Expression error: Unexpected < operator.Expression error: Unexpected < operator.Expression error: Unexpected < operator.Expression error: Unexpected < operator.Expression error: Unexpected < operator.Expression error: Unexpected < operator.Expression error: Unexpected < operator.Expression error: Unexpected < operator.Expression error: Unexpected < operator.Expression error: Unexpected < operator.Expression error: Unexpected < operator.Expression error: Unexpected < operator. ({{{handling}}})
Level {{{crashbreaker}}}

Top
Speeds

| | |
| --- | --- |
| Cruising | 170 MPH |
| Boosting | 179 MPH |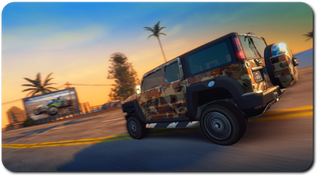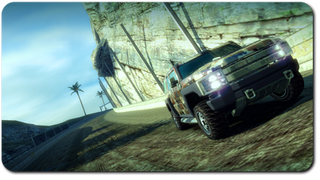 The Hunter Olympus Governor is one of nine new vehicles introduced to Burnout Paradise in the Big Surf Island update released on June 11, 2009. The Governor is only available by purchasing the Big Surf Island Pack. The Governor is a military vehicle that features a camouflage livery and heavily treaded off-road tires. The most notable difference between the Governor and its original variant is the addition of Stunt boost.
The Governor's Strength rating has not been changed from the stock Olympus' poor handling and extremely heavy weight. The Governor's weight prevents it from being anywhere near useful in Stunt Runs even though it is equipped with Stunt boost and it cannot Flatspin or perform Barrel Rolls on smaller ramps at lower speeds.
The Stunt boost gives it more mobility which makes it easier to maneuver than the stock version. Overall the Olympus Governor is best used in Marked Man and Road Rage events, and its strength rivals its sibling, despite the Takedown 4x4 sporting its Aggression boost.
Description
Edit
Now making its offline debut, the military spec Hunter Olympus Governor is still big, it's still slow, and it's still damn near unstoppable if you can get it up to speed. Rivals in road rage won't know what's hit them!
How to Unlock
Edit
Purchase the Big Surf Island Pack and earn 50% of the Big Surf Island License.
Resemblance
Edit
The Olympus Governor has strong resemblances to the Range Rover Stormer, the Honda Element's rear suicide doors, the Hummer H2 and the front of the new Ford Flex.
The Governor is one of few vehicles that can be driven with its engine fully exposed.
Details on this vehicle was first revealed in a news article created by Criterion Games on Friday, June 5th 2009.
This vehicle can't be used in an Online Cops and Robbers.
The Olympus Governor is one of the few vehicles in the game that is capable of taking down a GT Nighthawk head-on at full speed.
One of the reasons why the Governor is so difficult to drift and e-brake turn is that it has Four-wheel drive. Furthermore, despite its Stunt boost feature, its heaviness makes it far less useful for Stunt Run events.
The license plate "SARGE" refers to Sergeant Sullivan which is the persona of Burnout Paradise's Lead Designer Craig Sullivan.
The Olympus Governor cannot have it's paint changed.
in codeing its name is CAR_CAPS_PDSVKOW
See Also
Edit