Inferno Van Burning Route
Vehicles

| | |
| --- | --- |
| Required | Rewarded |
| | |

Locations
Start
Finish
1st Street and Fry Avenue
Coastguard HQ
Target Times
The Inferno Van Burning Route is an event in Burnout Paradise.
It is one of the more straightforward routes halfway into the game and starts at the 1st Street and Fry Avenue intersection. The only thing that hinders this Burning Route is the Inferno Van's poor acceleration.
Strategy
Edit
Take an immediate right onto 1st Street, take the jump in the center of the road onto the El-Train Tracks. Continue on the tracks until the end of the tracks and fall down onto an alleyway. Take a left onto Webster Avenue and continue along and turn on to East Crawford Drive. From there it's a straight drive to the Coast Guard HQ. This option is a bit tricky for beginners but has the least amount of traffic. (Estimated time of arrival: 0:51)
Alternative Routes
Edit
If the player is having trouble with the El-Train Tracks there are other ways of completing this burning route.
Continue along Fry Avenue into oncoming traffic, (NOTE: Do not attempt to traffic-check, it will compromise the integrity of the van and slow you down.) Go through the tunnel/intersection and keep going straight along Paradise Avenue, take the super jump and drift right onto 9th Street, continue along 9th and take a hard left onto Patterson Avenue. Drift right and the Coast Guard HQ is a few meters away. (Estimated time of arrival: 0:52)
If the player prefers to not go into oncoming traffic they can immediately turn onto 1st Street continue until you reach the intersection with Webster Avenue, take a hard left onto Webster. The player should jump onto the medians to avoid traffic while being wary to not drop down on the I-88. Turn right onto East Crawford Drive and the finish is just a few blocks away. (Estimated time of arrival: 0:51)
If neither of these routes work for the player they can turn right onto 1st street then drift left onto Root Avenue. Take the shortcut through the park, then continue straight through the construction site (stay right to avoid a costly super jump) and turn left onto Webster, continue along then turn right onto East Crawford and the finish line is dead ahead. This route does have challenges though. The Inferno Van's unsatisfactory steering makes turning onto Webster a bit difficult. (Estimated time of arrival: 0:49)
(The following is a video of alternative route 1.)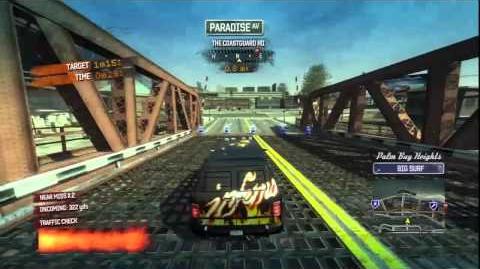 Ad blocker interference detected!
Wikia is a free-to-use site that makes money from advertising. We have a modified experience for viewers using ad blockers

Wikia is not accessible if you've made further modifications. Remove the custom ad blocker rule(s) and the page will load as expected.