The LM Classic is a fairly fast and controllable car (despite the tire grip at low speeds). There are many pathways to this Burning Route's finish line, and some players may run into a little trouble when it comes to choosing the correct line.
Strategy
Edit
Start the event by heading South on Lambert Parkway in the oncoming lane to preserve Boost, be sure to refill your gauge at the Gas Station on the left side. Continue on the parkway until you come to South Rouse Drive, this is a sharp left that is not clearly visible so you should use the mini-map or look for the Billboard above it. Drift hard onto South Rouse Drive and follow it down to the South Bay Expressway, at which point you will make a right hand turn. Cross the South Bay Expressway Bridge and lean left onto South Mountain Drive, Lone Stallion Ranch is just a few hundred yards away.
Alternate Routes
Edit
If players are having difficulty making the turn onto South Rouse Drive, they can take any of the other three arteries leading to the South Bay Expressway: Gabriel Avenue, Parr Avenue or Hall Avenue.

Gabriel Avenue has an advantage in the sense that it puts drivers on South Bay Expressway just before the Gas Station, however it is also the longest route.
Parr Avenue doesn't prove to be advantageous in any way.
Hall Avenue does feature a Makeshift Ramp on the right-hand sidewalk that provides access to the tracks of the South Bay Railroad (which has an exit just before Lone Stallion Ranch); it also features a short jump as you are turning onto South Bay Expressway, which will replenish your boost.
Continue on Lambert Parkway until the name changes to East Lake Drive and turn right facing the Lake onto Geldard Drive. Follow this road over Rockridge Dam and take the shortcut on the left to South Mountain Drive on the West side of the dam. After exiting the shortcut, proceed east and cut the long bends by taking the Super Jump to drop down again on the same road. Continue South and follow the road until you reach the Lone Stallion Ranch.
Alternately, follow the same route as above, but instead of following Geldard Drive, drop down from Rockridge Dam through yellow barricades on the left onto Casey Pass. Follow this road West and South until you reach South Mountain Drive and resume the normal itinerary.
Note: This route is best for performing Stunts along the way, not to set a time record. This route is much longer than the others.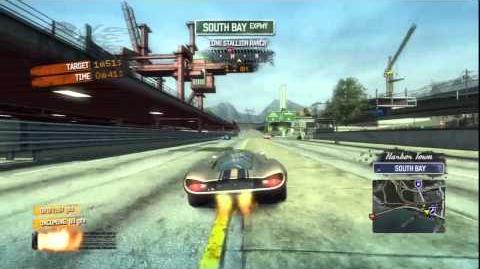 See Also
Edit
Ad blocker interference detected!
Wikia is a free-to-use site that makes money from advertising. We have a modified experience for viewers using ad blockers

Wikia is not accessible if you've made further modifications. Remove the custom ad blocker rule(s) and the page will load as expected.