| | |
| --- | --- |
| Maplemount Country Club | |

---

Type
Landmark
Location
Newton Drive
District
Palm Bay Heights


(Ocean View)

Events
Freeburn
Challenges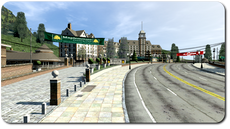 The Maplemount Country Club is the northern Paradise City landmark located in Palm Bay Heights. It serves as the final destination of several challenges and events.
Also, in the Online Cops and Robbers game mode released with the DLC pack, it serves as the Cops' Gold drop-off point.
The finish line is located on Newton Drive exactly in front of the club's entry. The drive being a long U-shaped road, the 2 nearest intersections are those with East Crawford Drive & Lambert Parkway and East Crawford Drive & West Crawford Drive to the south. Due to the characteristics of Newton Drive, the finish line can be crossed in both directions, however racers should note that both ways include an uphill slope that could prevent reaching the top speeds of their vehicles.
Finally, since the finish line is placed in the middle of the bend one could believe that from each origin the distance is the same, in reality the western route is slightly longer due to its larger bend radius.
Shortcuts
Edit
Only one shortcut exists to shorten the racer's route to the finish line.
When racing west towards the Country Club, racers can choose to go through the Cave which is accessible from the Big Surf Beachfront promenade. It cuts the corner of the official intersection and covers the player from rivals' attacks.
Events and Challenges
Edit
Below are the Events and Freeburn Challenges that involve the Maplemount Country Club.
Career Events
Edit
| Event Type | Event Name | Starting Point |
| --- | --- | --- |
| | Driving Off | West Lake & Nelson |
| | Heads Up | Gabriel & Manners |
| | High Noon Club | South Mountain & Lucas |
| | Rat Race | 2nd & Webster |
| | Riverside Run | Anderson & Glancy |
| | Club Sandwich | Evans & 1st |
Freeburn Challenges
Edit
| Players | # | Name | Type | Description |
| --- | --- | --- | --- | --- |
| 2 | 6 | Go Clubbing | Team Challenge | Meet at the Maplemount Country Club. |
| 4 | 6 | Go Clubbing | Team Challenge | Meet at the Maplemount Country Club. |
| 6 | 2 | Go Clubbing | Team Challenge | Meet at the Maplemount Country Club. |