FV1100

Make
Game
Boost
Boostless
Ratings
Top
Speeds

| | |
| --- | --- |
| Speed | 137 MPH |
| Leaning | 143 MPH |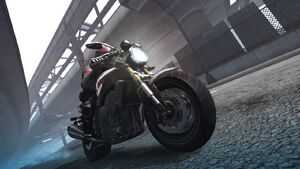 The Nakamura FV1100 is one of two bikes available in the Burnout Bikes Content Pack. (Along with the Firehawk V4) The Nakamura FV1100 is a street bike. The sweet 1100CC engine delivers high performance with easy handling making it the most versatile bike in Paradise.
Description
Edit
You need to face new challenges everyday, and so does your bike. The all new Nakamura FV1100 has been designed to provide the versatility you require. The responsive 1100cc engine gives satisfying performance, while the easy-going handling gives you the confidence to tackle anything the road can throw at you.
How to Unlock
Edit
You begin the your offline Burnout Bikes career with this motorcycle.
Resemblance
Edit
The Nakamura FV1100 bears a striking resemblance to a 1991-1993 Suzuki GSX1100G.
Ad blocker interference detected!
Wikia is a free-to-use site that makes money from advertising. We have a modified experience for viewers using ad blockers

Wikia is not accessible if you've made further modifications. Remove the custom ad blocker rule(s) and the page will load as expected.