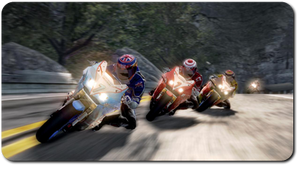 The Nakamura Firehawk GP Competition is the racing/track version of the Nakamura Firehawk V4, and is awarded for getting 100% bike game completion. When selecting this bike in the Junkyard, the player can select a country for the bike to be styled after. The countries are USA, Canada, Italy, Germany, France, Spain, United Kingdom and Japan.
Description
Edit
Built for the track and never intended for the road. The Firehawk GP Competition bike is the product of the worlds most advanced motorcycle racing R+D. The ultimate bike for the ultimate rider.
How to Unlock
Edit
Awarded for getting 100% bike game completion.
Resemblance
Edit
This bike mostly resembles a modern Moto GP style racing motorcycle.
Of the 4 bikes, this is the only bike in which a female can not be used as a driver. It is also the only bike that doesn't feature a Chrome Finish.
This is the only vehicle in Burnout Paradise to have the "Strength" stat of zero. This means that the bike can be easily wrecked at low-to-mid speeds when colliding with walls or traffic.
Criterion Games initially was to make more liveries available for the GP Competition, but the project was abandoned. The new countries were Finland, Laos, Mexico, Puerto Rico, Brazil, Australia, Iceland, Colombia, Croatia, Russia, South Africa, Sweden, Scotland, South Korea, China, Netherlands, India and Libya.