Racing SI-7

Make
Game
Boost
Speed
Ratings

(1)
(2)
(3)

1,200 kg.

Plate
Top
Speeds

| | |
| --- | --- |
| Cruising | 117 MPH |
| Boosting | 123 MPH |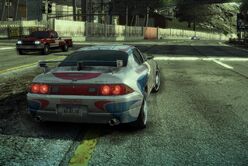 The Nakamura Racing SI-7 is the upgraded version of the SI-7. After the release of the Free February Update the Racing SI-7's handling was changed to make it easier to control for new players. This vehicle can still be replaced not too much later in the game specifically by the Kitano Hydros Custom.
Description
Edit
The Nakamura Racing Group know what to do when it comes to cars. They have race-tuned the engine for greater speed, but they've backed off the boost for increased reliability.
How to Unlock
Edit
Performance
Edit
The Nakamura Racing SI-7 performs similarly to its original version with slight differences. Like the normal Nakamura SI-7, it is a light, agile and responsive Speed boost vehicle. Although the Racing SI-7 still feels lacking in terms of power and straight line acceleration, the mid-range acceleration has improved somewhat. However, the Racing SI-7's shortcoming is its decreased Boost performance. With this reduction in power, the Racing SI-7's overall versatility is hampered. It still cannot perform continuous Burnout chains in the absence of heavy traffic and has an overall lower cruising speed.
The handling characteristics of the Racing SI-7 remain unchanged from the normal SI-7. It still suffers from the normal SI-7's front-wheel-drive drawbacks, like under-steer and its difficulty to throw into a Drift at lower speeds. However, at higher speeds, the Racing SI-7 is very responsive and easily controllable, if a bit sluggish in tight corners. It also shares the normal SI-7's interesting ability to do doughnuts in reverse.
It's low strength stat of '3' means that players should never use the Racing SI-7 for Road Rage events unless it is driven with care as, like the normal SI-7, it loses almost all control when hit. Despite its less powerful boost, the Racing SI-7 is still a decent choice for Stunt Run events due to its small size and maneuverability.
Overall, while the increase in power has improved the Racing SI-7's cruising speed and acceleration, its lackluster boost decreases its overall versatility, and the normal SI-7 is a more well rounded car. However, despite these drawbacks, the Racing SI-7 is still a very capable beginners' car and is very fast in the right hands.
Resemblance
Edit
The Racing SI-7 model is based on a 2005–2006 Hyundai Tiburon with a taillight and rear bumper design resembling a 1990–1993 Mitsubishi 3000GT, the front fascia seems to also follow some cues of later 1997–2001 3000GTs (the rounded, less aggressive shape). The name seems to be inspired by Nissan S platform chassis (the number "1" being visually similar to an "I").
The livery on the Racing SI-7 is similar to the Toyota Celica GT-Four (ST-205) Rally Car from the '90s.
Burnout Paradise's Free February Update lowered the Racing SI-7's speed stat from 2 to 1.
The Racing SI-7 is one of 6 front-wheel drive Paradise vehicles that is capable of performing donuts while driving backwards.
Burning Route
Edit
<a href="./File:Ignited_Boost_-_Nakamura_Racing_SI-7">
</a>
Ad blocker interference detected!
Wikia is a free-to-use site that makes money from advertising. We have a modified experience for viewers using ad blockers

Wikia is not accessible if you've made further modifications. Remove the custom ad blocker rule(s) and the page will load as expected.