The Opus Burning Route is a Burning Route Event in Burnout Paradise. It can be found at the intersection of 1st Street and Webster Avenue.
Go up on Webster Avenue and take a left onto 2nd Street, then cut through the park. Then there are two main paths to take during this Burning Route. The most direct is along Franke Avenue. This has some possible places to crash such as the six way junction or when turning onto Lambert Parkway. Make sure to take the shortcut just before 7th Street for a smooth passage. After the shortcut, which puts you in opposite traffic on 7th, jump the ramp in the center divide to put you back in the right lanes. Instead of making the 90º turn onto Lambert, jump the pond in the center after the intersection and fly up the road to the country club. Alternatively, a player may choose to take a more "L" shaped route by traveling along 3rd Street then taking the last right onto Lambert Parkway. This option has less traffic and more chance to Boost for extended periods despite being a longer driving distance.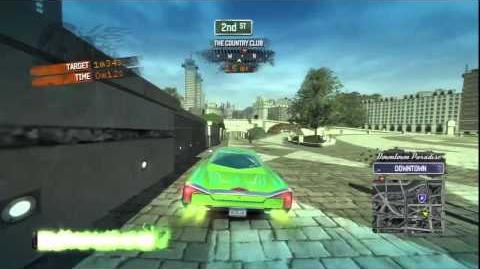 Ad blocker interference detected!
Wikia is a free-to-use site that makes money from advertising. We have a modified experience for viewers using ad blockers

Wikia is not accessible if you've made further modifications. Remove the custom ad blocker rule(s) and the page will load as expected.