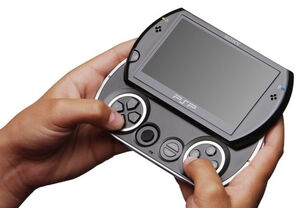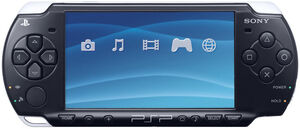 The PSP is a handheld console made by Sony. It was released in early 2005 and has sold nearly 56 million units as of August 2009. There has been two redesigns so far, first the PSP Slim & Lite in 2007 and 2008, then the PSP Go in 2009 (which has a slightly smaller screen and a sliding mechanism to reveal controls). The main game format for the PSP until now was the UMD (Universal Media Disc), but the new PSP Go only supports downloading games from the PlayStation Store. PSP Go has 16GB of internal memory, to allow installation of multiple games, along with a Memory Stick Micro slot. Previous PSP systems only had up to 64MB of internal memory for settings and saves, and a Memory Stick PRO Duo slot. Sony supports both the PSP Go and the PSP Slim & Lite, as the PSP Go does not support UMDs.
Because of its ability to render sophisticated 3D graphics, Burnout titles on the PSP work quite well, not the least of which because, being a racer, it doesn't use as many controls as other genres such as Role-Playing Games and First-Person Shooters do, thus it does not come out affected by the PSPs lack of secondary shoulder buttons and a Right Analog Stick.
Burnout Titles on the Playstation Portable
Edit
Unlike the home console versions, PSP versions of Burnout feature 30-FPS gameplay instead of the smoother 60-FPS gameplay of the console versions.
Both of the games on the PSP are considered spin-offs, making the PSP (and Nintendo DS) the only platform not to have any game from the main series.
Ad blocker interference detected!
Wikia is a free-to-use site that makes money from advertising. We have a modified experience for viewers using ad blockers

Wikia is not accessible if you've made further modifications. Remove the custom ad blocker rule(s) and the page will load as expected.