Home to the Burnopedia Clan, Burnopedia is the
one-stop Wiki site for all your Burnout needs.

•

•

•

•


•

•

•

Cars, Tracks, Locations, Modes, Events, Challenges, Discoveries... We cover everything and much more!
Encyclopedia

Burning Reports
Criterion Games mentioned during the interview with The Guardian that the new Burnout game, and possibly a new EA classic biker game, Road Rash, will be developing sometime either this year or next year. Burnout series is not dead yet!

Talk to me Burnopedia Admin - 14:40, October 21, 2012 (UTC)
Burnout dev, Criterion Games, now shifts gears to the Need For Speed series from now on since they were dominating the franchise with Hot Pursuit (2010) and Most Wanted (2012). Looks like the Burnout series might come to an end. Sad, isn't it? But don't be upset! At least you'll see some familiar Burnout-style gameplays and features in that franchise.

Talk to me Burnopedia Admin - 21:14, June 27, 2012 (UTC)

Did You Know...

Burnopedia Clan
---
---

Burnopedia Forums

General discussion | Article improvement | Online | Help | Featured article | Flag requests
Topic
Last Edit
Is Konami's "Thrill Drive" Started The WHOLE Burnout?
09:12, June 11, 2016 by Dante-Must-Die-Mode
How to exit from the Burnout Paradise game?
17:18, May 29, 2016 by ElliottB1
Total pursuit
02:50, April 2, 2016 by Supershaokahn
Burnout Revenge Vehicle Tiers
05:24, March 1, 2016 by GameCrazy1996
Top 5 favorite cars?
22:58, July 30, 2015 by Scottick
Top 5 hated cars?
22:45, July 30, 2015 by Scottick

Recent Blogs
Burnopedia: 1,227 articles & 5,062 images strong.

Featured Article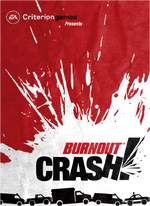 Burnout CRASH! is a downloadable spin-off game that was released on PlayStation Network and Xbox Live Arcade on September 20th, 2011. The title has a price tag of $6.99 & €5.49 on PlayStation Network or 800 on the Xbox LIVE Marketplace. The iOS version is also announced and to be released this April 12, 2012.

Burnopedia Poll
POLL CLOSED
The poll is now closed due to the inactivity of the games series with no more contents.
Poll Result Archive
Weekly Picture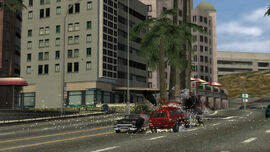 A fortunate crash for the Classic with the Gangster wrecking into traffic.
Helping Out
Not sure where to start?
---
Don't know where to ask?
Admins will be delighted to help!
---
Adding content