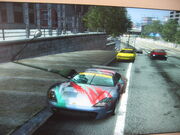 Power Park is a stunt introduced in Burnout Paradise and can be performed by a player that parallel parks using the E-brake to swerve into a gap between two parked cars.The rating system for this is judged based on how parallel the player's car is compared to the road line and the sidewalk curb.
Points are deducted if the player hits any cars or if part of their car is outside of the target area. Players can unlock awards unlocked for getting a 80% and 100% rating. If the player parks too far from the parking space or if it goes flying over the curb then the power parking ratings will not count.
It is not necessary for a player to spin into the space as the vehicle must simply stop with the use of an E-Brake between two parked vehicles. The limit for how close the two cars must be to each other is around 2 to 3 car lengths.
Power Parking can also be done between two players' cars in Freeburn Online.
Hitting one of the two vehicles whilst performing a Power Parking maneuver will void the lot and not allow the player to earn a Power Parking percentage.