LM Classic

Make
Game
Boost
Speed
Ratings
Top
Speeds

| | |
| --- | --- |
| Cruising | 129 MPH |
| Boosting | 150 MPH |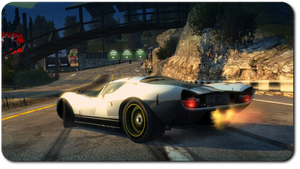 The Rossolini LM Classic is the embodiment of a Speed car with incredible handling and speed which drives great with boost but is unendingly fragile. Grazing traffic vehicles will send it skidding whilst attempting to drive it along guard rails will result in crashes. A single crash will send the LM Classic into Critical Damage during Road Rage and Marked Man events, but this car sees its best performance through reckless driving against lighter cars in Race events.
It typically handles better at higher speeds. Steering in first gear with the accelerator planted will guarantee a fishtail, but it handles incredibly well on highways and through regular turns at full speed. The decrease in turning radius at high speeds whilst drifting and normal steering is drastic. It's more of a sprinter car, capable of impressive speeds in the short term but seems to be slightly lacking in the long run when other players can catch up to it.
Description
Edit
There's nothing particularly complicated going on under the sleek chassis of the Rossolini LM Classic. Just lots of really simple stuff doing exactly the right thing.
How to Unlock
Edit
Win 19 events, then shut it down.
Resemblance
Edit
The Front and side styling resembles the Jaguar D-Type, Ferrari 330P4/512, Ferrari Dino 206/246 and Kelmark GT. The rear styling is close to the Ferrari 330 P4/512 but the rectangular taillights would be more typical for Bertone car designs.
Burning Route
Edit
In Burnout Paradise's Free February Update the LM Classic's speed stat was lowered from 4 to 2.
This car has a V8 engine. If you look closely at the sides of the engine (esp. when the engine cover is off), on the orange part, you can see the words: "EA V8" (Electronic Arts V8 Engine)
See Also
Edit
Ad blocker interference detected!
Wikia is a free-to-use site that makes money from advertising. We have a modified experience for viewers using ad blockers

Wikia is not accessible if you've made further modifications. Remove the custom ad blocker rule(s) and the page will load as expected.