Seeing Stars is a Marked Man event in Burnout Paradise. The player should choose a car with a very high strength rating because this is one of the longest Marked Man events in the game.
Immediately start boosting along West Crawford Drive and continue along it until the player reaches the Paradise City Railroad. Turn right onto the railroad and continue along it until the player reaches the small opening that leads onto Read Lane, the player should not drop their guard while on the railroad because Marked Man opponents tend to spawn on the railroad. Once through the opening the player should continue along Read Lane until the intersection of Read Lane, North Mountain Drive, and North Rouse Drive, drift right at the intersection and stay left to fall into the shortcut. After going into the shortcut the player should stay right though the tunnel and out the small Natural Ramp. Once out the shortcut the Crystal Summit Observatory is only a few feet away.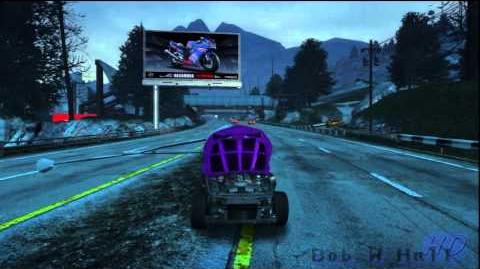 Ad blocker interference detected!
Wikia is a free-to-use site that makes money from advertising. We have a modified experience for viewers using ad blockers

Wikia is not accessible if you've made further modifications. Remove the custom ad blocker rule(s) and the page will load as expected.