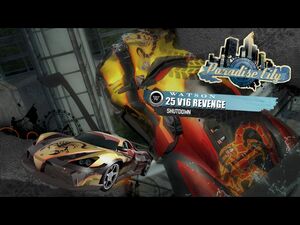 A Shut Down is a Takedown of a yet-to-be-unlocked vehicle controlled by AI during Freeburn mode. This is the main method for players to unlock new vehicles in Burnout Paradise.
DJ Atomika will announce upon the completion of a certain number of events that a new vehicle with picture and name has entered Paradise City.
A vehicle that needs to be shutdown will randomly appear whilst the player is in offline freeburn and will attempt to take down the player. Music can be heard from inside the rival vehicle. The vehicle will become available for the player to drive once they takedown that vehicle.
A message will pop up and inform the player that they have successfully shut down their adversary once they take them down. Upon entering the Junkyard the player will find that the car is in a damaged state and will always respawn in such a state after a wreck until the player drives through an Auto-Repair.
Cars that can be Shut Down
Edit
Only a maximum of 3 cars will appear on the streets when the player has managed to have more than two cars to Shut Down. Once one (or two) of them has been shut down, the other cars will appear in a similiar fashion.

In rare occasions, one of these cars will appear randomly and overtake the player and then quickly followed by another car, as if they are chasing each other.

This is obviously a resemblance to Burnout 2's Face Off (Burnout 2).