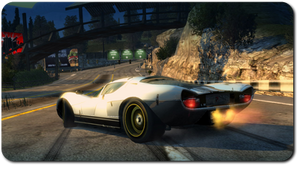 | | |
| --- | --- |
| | Speed boost was Burnopedia's Featured Article in April 2010. |
Speed Boost Vehicles are among the quickest vehicles in the game. They have the highest speed and moderate to high maneuverability but have generally a very low resistance to damage. They are best used for Race events as their low thresh hold for damage limits their abilities in Road Rage and Marked Man events. This boost type has a bright yellow flame and utilizes the shortest boost bar in Burnout Paradise.
Speed Boost vehicles have a unique type of boost as it is only usable when the boost bar is completely filled. It is similar to the boost system used in both Burnout and Burnout 2: Point of Impact. The boost bar is about half the length of the boost bars used for the other boost types. If the boost is used completely in a single burst then the player will perform a burnout which will refill a portion of their boost bar. Driving through a Gas Station while boosting will guarantee the player a Burnout.
If enough stunts or driving maneuvers are performed whilst boosting then the boost bar will be completely refilled. This is called a Burnout Chain. The chain will continue until the either the boost button is released, the player fails to refill the boost bar or the player crashes the car.
Many early Speed Boost vehicles such as the Nakamura SI-7 and the Kitano Hydros Custom have a high pitched Flywheel sound cue to indicate that they are at their maximum cruising speed.
Manufacturers
Edit
| Manufacturer | Vehicles | Manufacturer | Vehicles |
| --- | --- | --- | --- |
| | 10 | | 3 |
| | 3 | | 10 |
| | 4 | | 3 |
| | 6 | | 3 |
Vehicles equipped with Speed Boost
Edit
Make
Model
Boost Type
Cruising

---

Boosting
Unlock
Method
Required
Packs
Ratings

Carson

500 GT

Speed

168 mph

---

195 mph
Complete 83 Events and Shut it Down.
None




Carson

Annihilator Street Rod

Speed

177 mph

---

200 mph
Complete 100% of the Big Surf Island License.
  




Carson

Carbon GT Concept

Speed

175 mph

---

198 mph
Smash through all 400 Yellow Smash Gates.
None




Carson

Fastback

Speed

138 mph

---

155 mph
Earn a B Class License.
None




Carson

Fastback Special

Speed

133 mph

---

160 mph
Win the Fastback Burning Route.
None




Carson

GT Nighthawk

Speed

170 mph

---

197 mph
Available with purchase.
  




Carson

PCPD 500 GT

Speed

168 mph

---

195 mph
Available with purchase.
  




Carson

PCPD Fastback

Speed

138 mph

---

155 mph
Available with purchase.
  




Carson

Racing 500 GT

Speed

163 mph

---

200 mph
Complete the 500 GT Burning Route.
None




Carson

Toy Nighthawk

Speed

150 mph

---

177 mph
Beat all 24 Big Surf Island Road Rules.
  




Jansen

PCPD X12

Speed

159 mph

---

185 mph
Available with purchase.
  




Jansen

X12

Speed

159 mph

---

185 mph
Complete 66 Events and Shut it Down.
None




Jansen

XS12

Speed

154 mph

---

190 mph
Complete the X12 Burning Route.
None




Kitano

Hydros Custom

Speed

122 mph

---

141 mph
Win 10 Events and Shut it Down.
None




Kitano

Hydros Micromania Custom

Speed

122 mph

---

141 mph
Enter the correct Sponsor Code (French Version Only).
None




Kitano

Hydros Techno

Speed

132 mph

---

136 mph
Win the Hydros Custom Burning Route.
None




Kitano

PCPD Hydros Custom

Speed

122 mph

---

141 mph
Available with purchase.
  




Krieger

616 Arachno Sport

Speed

154 mph

---

158 mph
Complete the 616 Sport Burning Route.
None




Krieger

616 Sport

Speed

144 mph

---

163 mph
Complete 34 Events and Shut it Down.
None




Krieger

PCPD 616 Sport

Speed

144 mph

---

163 mph
Available with purchase.
  




Krieger

PCPD Special

Speed

173 mph

---

200 mph
Complete the WTR Burning Route.
None




Krieger

PCPD Überschall 8

Speed

180 mph

---

197 mph
Available with purchase.
  




Krieger

Racing WTR

Speed

178 mph

---

197 mph
Complete 168 Events and Shut it Down.
None




Krieger

Walmart WTR

Speed

178 mph

---

197 mph
Enter the correct Sponsor Code (NTSC Version only).
None




Krieger

Überschall 8

Speed

180 mph

---

197 mph
Complete 128 Events and Shut it Down.
None




Krieger

Überschall Clear-View

Speed

175 mph

---

200 mph
Complete the Überschall 8 Burning Route.
None




Montgomery

Carbon Hawker

Speed

180 mph

---

199 mph
Hit all 120 Burnout Billboards.
None




Montgomery

GT 2400

Speed

151 mph

---

168 mph
Complete 42 Events and Shut it Down.
None




Montgomery

PCPD GT 2400

Speed

151 mph

---

168 mph
Available with purchase.
  




Montgomery

Sabotage GT 2400

Speed

146 mph

---

173 mph
Complete the GT 2400 Burning Route.
None




Nakamura

PCPD SI-7

Speed

112 mph

---

126 mph
Available straight
after purchase.
+




Nakamura

Racing SI-7

Speed

117 mph

---

123 mph
Complete the
SI-7 Burning Route.
None