The Spur Burning Route has a straightforward path that does not require shortcuts to be beaten. On the other hand, Nelson Way might be a difficult road to drive on for beginners as it has multiple blind-spots where traffic is often present.
Strategy
Edit
Start out heading north on Nelson Way. There are three shortcuts through farming structures on the right immediately after each other from the starting point. Exiting the last one will require drivers to veer to the right back onto Nelson Way. Follow Nelson and refill your boost at the gas station on the right and then take the next right onto Read Lane. Follow Read Lane until it dead-ends in a sharp left onto North Mountain Drive. Turn onto N. Mountain and look for a dirt path on the left. Take the dirt path and keep straight until you see some barriers ahead on the right. Head left of the barriers and you will jump back onto N. Mountain Drive to the Crystal Summit Observatory where you will find the finish line.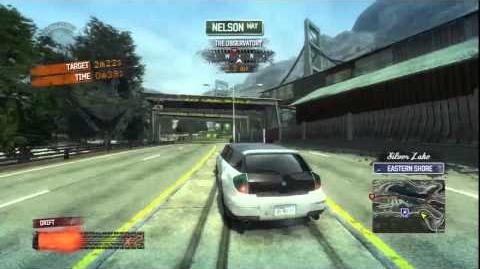 See also
Edit
Ad blocker interference detected!
Wikia is a free-to-use site that makes money from advertising. We have a modified experience for viewers using ad blockers

Wikia is not accessible if you've made further modifications. Remove the custom ad blocker rule(s) and the page will load as expected.