The Takedown 4x4 burning route is an event in Burnout Paradise. However the Takedown's high center of gravity makes drifting a challenge. There is only one efficient route to be taken in this burning route.
Obviously, it's best to have a boost refill beforehand towards the Burning Route race. The player should immediately begin boosting and continue straight along South Rouse Drive. Once the player has exited the tunnel they will come upon a large overpassing intersection of I-88 section 3. The player should be careful to not take the exit onto I-88 and continue along S. Rouse drive. If needed there is an auto-repair just north of the overpass on the left hand side of the street. The player should then cut straight across to North Rouse Drive, taking the shortcut on the right once on N. Rouse Drive. Continue along N. Rouse until your come out of the tunnel stay on N. Rouse and take the super jump on the left. Drift around the first corner and take the dirt shortcut to the left of the second corner. The player should then take the shortcut in the center of the road and jump both super jumps. Turn right onto North Mountain Drive, taking the dirt shortcut to the left. The Crystal Summit Observatory is just a boost-and-a-half away. (Estimated time of arrival: 1:33)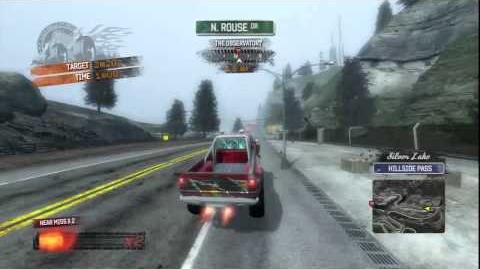 Ad blocker interference detected!
Wikia is a free-to-use site that makes money from advertising. We have a modified experience for viewers using ad blockers

Wikia is not accessible if you've made further modifications. Remove the custom ad blocker rule(s) and the page will load as expected.