The
Tempesta
Burning Route
is an event in
Burnout Paradise
. It is medium-leveled in terms of difficulty but the player will have to overcome the Tempesta's squirrelly nature. The player will be navigating streets with dense traffic that the Tempesta could easily be wrecked upon impact with, putting the player in jeopardy of completing the burning route.
The player should turn left onto Paradise Avenue and stay in oncoming to earn boost. Once at the major intersection of Downtown take a slight right-hand turn onto Fry Avenue. Continue driving down Fry until the T-Junction of Harber Street and Fry Avenue. Stay left on Harber Street and take the shortcut(s). Stay left the entire time until you go through the Naval Ship, stay right in the ship yard and the player will come out right under the Fort Lawrence Naval Yard. (Estimated time of arrival: 0: 51)
Alternative routes
Edit
If the player is having trouble on the first strategy there is one other option.
Keep going down Young Avenue and follow underneath of the El-Train tracks until you reach the intersection of Hamiltion Avenue and 1st Street, go straight across onto Warren Avenue and continue going straight, passing under the billboard and then stay left. Take the super jump to gain boost and continue along this shortcut until you reach the Naval Yard. (Estimated time of arrival: 0:54)
(The following is a video for the alternate route.)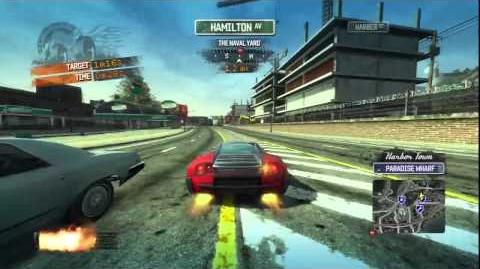 Ad blocker interference detected!
Wikia is a free-to-use site that makes money from advertising. We have a modified experience for viewers using ad blockers

Wikia is not accessible if you've made further modifications. Remove the custom ad blocker rule(s) and the page will load as expected.