Toy Takedown 4x4

Make
Game
Boost
Aggression
Ratings
Top
Speeds

| | |
| --- | --- |
| Cruising | 130 MPH |
| Boosting | 152 MPH |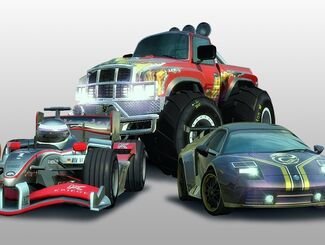 The Toy Hunter Takedown 4x4 is a small aggressive pickup-truck that is a part of the Toy Cars Pack. It is capable of plowing through any vehicles in its path despite its short height like its original counterpart and the Toy Inferno Van.
It is difficult to control at top speeds and perform U-Turns due to its sensitive steering which also makes it vulnerable to a Takedown. Its small size is useful for Stunt Run events but it is inferior from performing Flatspins due to its heavy weight.
Description
Edit
This miniaturized Takedown 4x4 might look cute, but it's not to be taken lightly. It packs just as much of a punch as it's big brother!
How to Unlock
Edit
Purchase either Toy Collection 2 or the Complete Collection.
It is also available on its own on the Xbox LIVE Marketplace for 160

.
Resemblance
Edit
This vehicle is a toy version of the Hunter Takedown 4x4.
This vehicle was accidentally released by Microsoft on Xbox 360 on February 19, 2009 allowing some players to download it. It was removed shortly thereafter until its official release.
This vehicle can't be used in an Online Cops & Robbers game.
The Toy 4x4 is capable of full 4 wheel steering.
The Toy 4X4 can "hop" onto raised surfaces such as containers by using the handbrake before hitting them.
Ad blocker interference detected!
Wikia is a free-to-use site that makes money from advertising. We have a modified experience for viewers using ad blockers

Wikia is not accessible if you've made further modifications. Remove the custom ad blocker rule(s) and the page will load as expected.