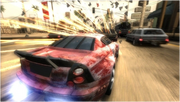 Traffic checking is the act of shunting or slamming traffic. It first appeared in Burnout 3: Takedown, when a Yellow Taxi was checked/hit by a Blue Super Type 1 in the Intro movie, but wasn't highlighted within the game. Racers could effortlessly push wrecked vehicles (regardless of size, and whether the wreck had been a racer or a traffic vehicle) out of the way in a crash, if they hadn't been affected in the crash. They will however crash upon touching the wreck after a period of time during the original crash, or if a wrecked player uses Aftertouch to hit the racer.
Traffic Checking was properly introduced in Burnout Revenge, allowing players to launch any small traffic vehicle (up to the size of a delivery truck) forwards from the racer (the speed and direction of the vehicle is determined by the precise direction and strength of the impact), provided it was pointed in the same direction as the racer, or parked. It became a major gameplay component in the Traffic Attack game mode. In addition, players can traffic check vehicles into rivals to score a Traffic Check Takedown.
Traffic checking was changed to be more realistic in Burnout Paradise. The strength of a vehicle determined the probability of a traffic check, and the traffic vehicle is no longer launched like a missile when checked. It is possible to check larger vehicles in Burnout Paradise with high strength rated vehicles such as the Hunter Olympus, Carson Inferno Van or Krieger Pioneer. This allows players to easily take down the new vehicles when they start roaming Paradise City.