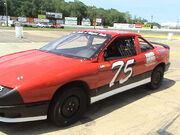 Hey, I'm Gp75motorsports from Gran Turismo Wiki. I also play a lot of Burnout, as you can see. :)
Here are my stats:
License: Burnout
Road Rules Time: 34 (That's over half of Paradise, including ALL of I-88!)
Road Rules Showtime: 2
Roads Ruled: 2
Favorite Car: Hunter Takedown 4X4 (I also like the Oval Champ and BRT Oval Champ)
Most Takedowns: 101!
Race Wins: A bunch ;)
Gamertags: TeamACRZARacingo, Team_CZR_Racing (Might as well do what IBitePrettyHard on XBL did and create Team_CZR_Legacy.)
Console: PS3 FTW!
Gp75motorsports

(

Talk

-

Contribs

)

Clan

Membership

TeamACZRARacingo

GMT-5

Issued:

Dec. 2008

- -
Available:

All weekend for the foreseeable future
Skills

Race, Road Rage, Stunt Runs (sometimes), Burning Route, Marked Man

Clan Rank

Learner

"

You can run, but you can't hide!

"

Packs