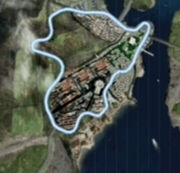 The Vineyard is a European track in
Burnout 3: Takedown
. It is very close to the
Riviera
, and is connected to it in
Coastal Dream
.
The Vineyard has exactly 16 turns with a drift section on the eastern half. This is where the Vineyard gets its name. Where the drift area is, the wine berries are grown. The northwest section connects to the Riviera. The area is strongly based off of the city of Avignon in southern France.
Signature Takedowns
Edit
The Vineyard has a few Signature Takedowns. Gate Crasher and Grapes of Wrath to name a few. To perform Gate Crasher, you have to smash a rival into the town gates. For Grapes of Wrath, perform a Takedown on a wine truck.
There are 6 Race events. A Special Event, three Coupe Series races and two Sports Series races. There are also 10 Crash events. Two named after Signature Takedowns are Grapes of Wrath and Gate Crasher. The rest are Jack Knife City, Grape Fear, Field of Screams, Country Chaos, Haul A$$, Bale Out, Medieval Mash and Crash Au Van.
Ad blocker interference detected!
Wikia is a free-to-use site that makes money from advertising. We have a modified experience for viewers using ad blockers

Wikia is not accessible if you've made further modifications. Remove the custom ad blocker rule(s) and the page will load as expected.