White Mountain is one of two European Locations in Burnout Revenge. It is based off of the alps of Switzerland and only features a long circuit.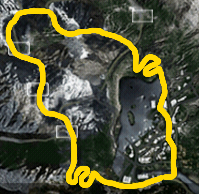 This high-altitude track is one of the longest and most dangerous. From cliffside routes and switchbacks to enterable buildings and broken bridges, White Mountain provides a heart-stopping experience for rookie and veteran players alike. Most of the circuit winds through the alps but enters a village halfway round. Traffic is usually small and light, but big rigs are more common within the area's civilization.
Crash Junctions
Edit
Compared to most locations, White Mountain lacks in crash junctions, but there are four located in different sections of the track:
Rank 2 Crash Swiss Roll
Rank 2 Crash Dangerous Swerves
Rank 8 Rank 10 Crash Cry For Alp
Rank 8 Crash Mountain The Kerb
Race Events
Edit
Rank 2 Burning Lap Reverse
Rank 2 Crashbreaker Preview Race Forwards
Rank 2 Eliminator Forwards
Rank 2 Grand Prix 2
Rank 5 Burning Lap Forwards
Rank 5 Traffic Attack Forwards
Rank 5 Road Rage Reverse
Rank 6 Preview Lap
Rank 8 Crashbreaker Eliminator Reverse
Rank 8 Crashbreaker Road Rage Forwards
Rank 8 Traffic Attack Reverse
Rank 8 Crashbreaker Race Forwards
Rank 10 Traffic Attack Forwards
Ad blocker interference detected!
Wikia is a free-to-use site that makes money from advertising. We have a modified experience for viewers using ad blockers

Wikia is not accessible if you've made further modifications. Remove the custom ad blocker rule(s) and the page will load as expected.