X12 Turbo Burning Route
Vehicles

| | |
| --- | --- |
| Required | Rewarded |
| | |

Locations
Start
Finish
Manners Ave & Parr Ave
Coastguard HQ
Target Times
The X12 Turbo Burning Route will only prove difficult to players if they are not familiar with navigating a low-strength vehicle through busy urban districts with dense traffic. The Jansen X12 is also one of the most "unruly" cars in the game as it has very delicate handing and spins out easily at any speed.
Take an immediate right from the starting line onto Manners Avenue and follow the road east. After crossing Warren Avenue, take the double jumps on the right and veer right onto Harber Street. Take the shortcut onto 1st then the shortcut onto Root Avenue. Go through Downtown Park. Then take the right path in the construction building, and turn left onto Webster Avenue. Keep going north and you will be at the Coastguard HQ.
Alternate Route
Edit
Start out heading north on Parr Avenue, and merge onto Lambert Parkway. There are numerous walkway shortcuts to the right and left along the route, but they are not required to finish the route. As you pass under the Ocean View sign and approach the JL Audio sign, prepare for the sharp right onto East Crawford Drive. Follow E. Crawford, possibly taking advantage of the sidewalks and boardwalks on the left until you reach the finish.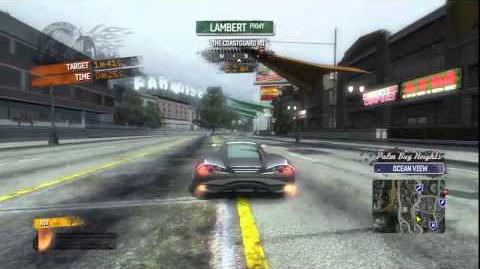 Ad blocker interference detected!
Wikia is a free-to-use site that makes money from advertising. We have a modified experience for viewers using ad blockers

Wikia is not accessible if you've made further modifications. Remove the custom ad blocker rule(s) and the page will load as expected.